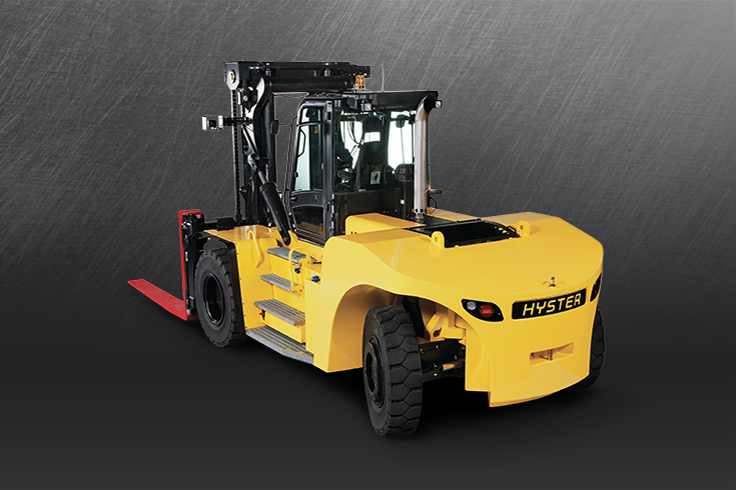 Heavy Duty Forklift Truck Pneumatic Tyre
HEAVY-DUTY APPLICATIONS
Models

H25-32XD

Capacity

25000-32000kglbs
Solid and agile heavy-duty forklifts that deliver proven performance and low running costs
Extensive attachment options
Energy efficiency
New ergonomic cab
High-performance powertrain
Built for extreme temperatures
These solid machines have proven their reliability and strength in heavy applications around the world, particularly in aluminium, steel, block and container handling applications.
Extensive attachment options
A wide range of different carriage, fork, mast and front-end attachments, including container spreaders and coil rams, is available.
The dual function carriage design – with quick disconnect forks for fast attachment exchange and standard sideshift with fork-positioners – offers unique flexibility to handle many different types of loads
Fork configurations include;
3040mm wide DF side shift and fork positioning carriage, hook type mount (H25XD)
3200mm wide DF side shift and fork positioning carriage, hook type mount (H28-32XD)
280 X 105 X 2.440 mm long hook type forks (H25XD)
300 X 105 X 2.440 mm long hook type forks (H28-32XD)
The robust masts have extra strength thanks to the unique 'six-roller' construction for lift heights up to 6.81m and mast tilt of 6 degrees forward and 10 degrees back. Mast configurations include;
2 stage NFL Mast with maximum fork height of 3655mm with 3794mm overall lowered height on the H25XD model
2 stage NFL Mast with maximum fork height of 3655mm with 3919mm overall lowered height on the H28-32XD models
Energy efficiency
Intelligent CAN bus technology permits adjustment and optimization of the truck's performance, in addition to monitoring key functions. This enables quick, easy diagnostics and minimizes repair downtime.
In addition, The ECO-eLo Fuel Efficiency Mode can be used which reduces the maximum engine speed and optimizes fuel efficiency even more.
Stage IV compliant designs employ EGR engine technology to reduce emissions, which means that the end users in regulated regions can continue to operate as previously, by adding Diesel fuel to the tank with no additional equipment, additives or maintenance regimes, unlike SCR technology.
New ergonomic cab
The new ergonomically design high visibility cab puts greater productivity within easy reach. Equipped with an armoured glass top window, curved front and rear windows and steel doors with tempered glass, the new operator cab provides excellent all-around visibility.
Inside the cab there is more space with the largest entry area in the industry, more control with a full-colour screen displaying performance data at the operator's fingertips and more comfort with an exclusive lateral sliding seat, adjustable steering column and foot pedal,
plus ergonomic controls.
High-performance powertrain
The high-performance powertrain has built-in engine and transmission protection systems, providing maximum reliability and a low total cost of ownership. Operating speeds are class leading contributing to lower cost of operation. The heavy duty industrial use engine comes with a cast iron cylinder block and no HT (high tension) wires, distributor caps or rotors. Super quick glow plugs allow the engine to start quickly and reliably under cold conditions, the cold start device delivering a cleaner exhaust by advancing the fuel injection timing based on water temperature. while emissions have been reduced by controlling fuel injection timing according to engine load. Performance optimization developments are included such as cooling on demand, load sensing hydraulics (power on demand), RPM management and alternate engine idle speed to help further reduce the total fuel consumption in most applications. ECO-eLo performance mode reduces energy consumption by up to 15% compared with previous generation engines and without compromising productivity.
Built for extreme temperatures
Built for extreme ambient temperatures ranging from -20°C up to 50°C, the trucks provide a perfect solution for challenging heavy industry operations anywhere in the world.
Model
H25XD12
H28XD12
H25XD9
H32XD12
H32XD9
H30XD12
H30XD9
Excepteur quis
In in duis.
Elit, exercitation eu in adipisicing mollit velit non consequat, laborum. Enim minim ad reprehenderit occaecat magna amet, ea commodo veniam. Lorem aliqua, esse minim dolor in quis deserunt laborum, voluptate. Ipsum in qui labore ex exercitation irure excepteur veniam, do. Excepteur deserunt ut reprehenderit in consequat, sint minim aute ad. Fugiat eu voluptate labore nulla in ullamco officia tempor qui. Velit cillum reprehenderit incididunt deserunt irure commodo nostrud fugiat et. Id dolore eiusmod incididunt occaecat consectetur adipisicing sint anim esse. Proident, deserunt aliquip in dolore non sit elit, enim consectetur. Minim voluptate ullamco ea esse ut aute dolor laboris do