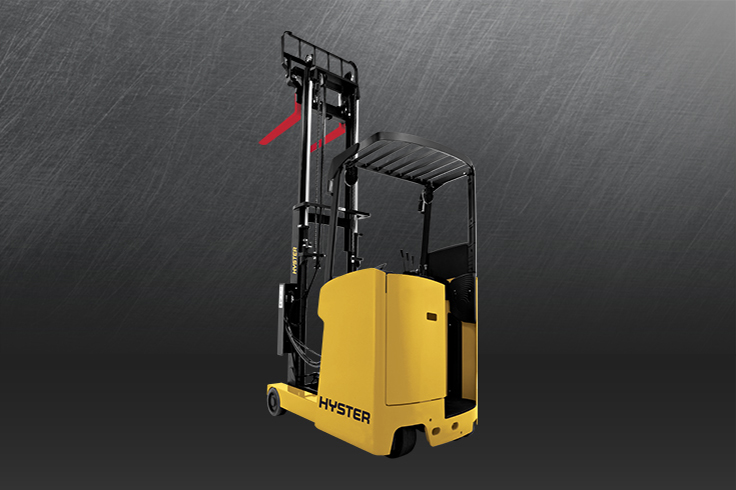 Reach Truck with Moving Mast
Delivering productivity for your business combined with operator comfort
Models

R2.00-3.00 E(T)X

Capacity

2000-3000lbs
The Hyster R2.00-3.00 E(T)X offers enhanced performance features across electronic controls, suspension system, steering and operator compartment, plus loads more options.
Maximum performance and productivity
Ergonomics
With a capacity of 3000kg the Hyster R2.00-3.00 E(T)X is ideally suited to manoeuvre in warehouses with narrow aisles and confined spaces
Maximum performance and productivity
The Hyster R2.00-3.00 E(T)X has focused on design features to enhance your productivity.
Power-on-demand steering is standard and provides energy savings and allows the use of a small diameter steering wheel for low effort steering
The controller is technician configurable to adjust traction speed limit, acceleration and deceleration levels and lift and lower speeds to provide the ideal operating characteristics to match any application
Ergonomics
We know ergonomics plays a vital role in the performance of your operator and their productivity.
The operator's compartment has been designed to aid productivity while providing comfort and ergonomics to the operator
Formed rubber fl oor mat isolates the operator from noise and vibration to minimise fatigue
An adjustable hip support provides the operator with a stand/lean option for even greater comfort
The direction control and hydraulic control levers are conveniently located for one hand operation
Model
R3.00E(T)X
R2.00E(T)X
R2.50E(T)X
Excepteur quis
In in duis.
Elit, exercitation eu in adipisicing mollit velit non consequat, laborum. Enim minim ad reprehenderit occaecat magna amet, ea commodo veniam. Lorem aliqua, esse minim dolor in quis deserunt laborum, voluptate. Ipsum in qui labore ex exercitation irure excepteur veniam, do. Excepteur deserunt ut reprehenderit in consequat, sint minim aute ad. Fugiat eu voluptate labore nulla in ullamco officia tempor qui. Velit cillum reprehenderit incididunt deserunt irure commodo nostrud fugiat et. Id dolore eiusmod incididunt occaecat consectetur adipisicing sint anim esse. Proident, deserunt aliquip in dolore non sit elit, enim consectetur. Minim voluptate ullamco ea esse ut aute dolor laboris do