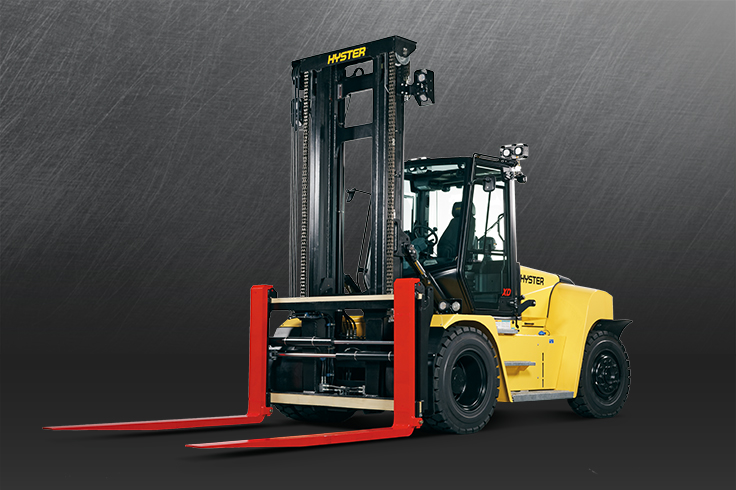 Heavy Duty Forklift Truck Pneumatic Tyre
HEAVY-DUTY APPLICATIONS
Models

H8-12XD

Capacity

8500-12500kglbs
Heavy duty fork lift power for the harshest applications
Robust frame and mast
Ergonomic cab
Class-leading lifting and travel speeds
Built for extreme temperatures
Energy efficient
Each model gives outstanding power and reliability with fast attachment exchange as well as optimum visibility of the forks, the attachment, and the load.
Robust frame and mast
The robust frame and wide drive axle provide rock solid stability and long-term durability when handling loads at full capacity. The trucks include two-stage masts with extended range of pin or hook type carriages. More space between mast channels gives enhanced visibility of the attachment and load. Intelligent design has increased the residual capacity on each truck by at least 400kg for the side shift pin type carriage. More space between mast channels gives enhanced visibility of the attachment and load as the chains are on the outside of the mast. Operators can see through and over the carriage which helps provide ideal levels of visibility for ground level and lorry bed height manoeuvres. Carriages have slimline top bars with an intelligently located valve block Reduced "lost load" centres: the more open design results in less weight on the carriage and gets the load closer to the truck.
Ergonomic cab
The new ergonomically design high visibility cab puts greater productivity within easy reach. Equipped with an armoured glass top window, curved front and rear windows and steel doors with tempered glass, the new operator cab provides excellent all-around visibility. Inside the cab there is more space with the largest entry area in the industry, more control with a full-colour screen displaying performance data at the operator's fingertips and more comfort with an exclusive lateral sliding seat, adjustable steering column and foot pedal, plus ergonomic controls.
Class-leading lifting and travel speeds
Thanks to the practical four-modes feature the trucks can achieve impressive lifting speed averages between 0.40m/s and 0.69m/s with full nominal capacity up to 6250mm. The heavy duty industrial use engine comes with a cast iron cylinder block and no HT (high tension) wires, distributor caps or rotors. Super quick glow plugs allow the engine to start quickly and reliably under cold conditions, the cold start device delivering a cleaner exhaust by advancing the fuel injection timing based on water temperature. Whilst emissions have been reduced by controlling fuel injection timing according to engine load.
New performance optimisation developments are included such as cooling on demand, load sensing hydraulics (power on demand), RPM management and alternate engine idle speed to help further reduce the total fuel consumption in most applications.
Built for extreme temperatures
Built for extreme ambient temperatures ranging from -18°C up to 50°C, the trucks provide an ideal solution for challenging heavy industry operations anywhere in the world.
Energy efficient
Energy-efficient ECO-eLo and HiP performance modes reduce energy consumption by up to 20% without affecting productivity. The CAN bus Communications system is used to manage the electronic systems and provides reliable operation of the truck. while the unobstructed access to the engine compartment and conveniently located checkpoints enables rapid and efficient maintenance. The oil immersed 'wet disc' brakes feature oil cooling for durability and are virtually maintenance free.
Model
H8XD6
H10XDS6
H9XD6
H10XD6
H12XD6