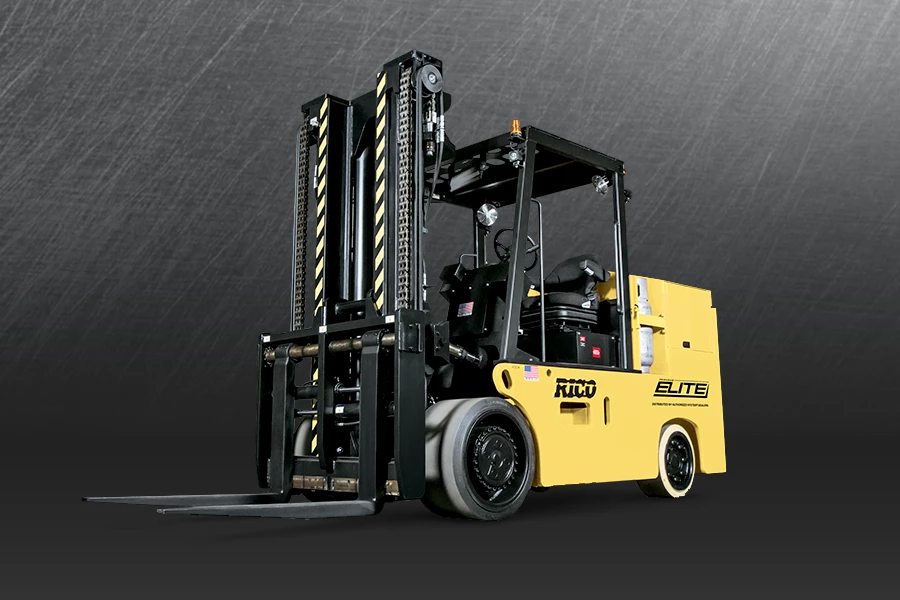 High Capacity Cushion Tire Internal Combustion Forklift
Pegasus Elite Series - ICE
Designed for industrial applications, the Pegasus Elite high-capacity counterbalanced cushion tire series includes 10 different models, features lifting capacities from 20,000 to 50,000 pounds and offers compact versions. Multiple mast, carriage and fork combinations are available on the standard chassis to suit a wide range of applications and industries, including metals, automotive stamping and manufacturing.

Models
PG-200, PG-200C, PG-250, PG-250C, PG-300, PG-300C, PG-350, PG-400, PG-400C, PG-500
Designed for industrial applications
High Capacities in a Standard Footprint
Pegasus Elite series is designed for higher capacities in a standard foot print and design. Strategically built for environments that require forks for standard loads while maintaining unmatched performance throughout the day and its lifetime.
Heavy-duty Design
Designed with an all steel frame and stacked counterweights, a larger tank to replace cooling system, standard knuckle steering for tighter turn radius, and standard engine.
The drive axle is designed to provide long service life and marginal downtime.
Excellent visibility & Ergonomics
The mast incorporates a wide, upright spread to allow for easy and precise load spotting.
Large steps, easy to reach rails, and exits from both sides of the truck allow for effortless ingress and egress.
The spacious operator compartment boasts a clear view mast with a low profile chassis to allow driver to see the fork tips, enabling the highest visibility.
Our dealers are our most important partners in helping you
We would not be where we are today without one of the most professional dealer networks in the industry. We work hard to design and manufacture the best lift trucks, but it is our stellar dealers that bring it all together for you.
Dealers help at every step of the process
Understanding your specific lift truck applications
Recommending special features to improve your productivity
Configuring the proper quotation
Helping with financing options when required
Prepping your truck for delivery after it leaves our factory
Arranging for operator training
Providing planned maintenance on your trucks
Supporting National Accounts management
Providing fleet management services, if needed
Providing emergency service and parts
Providing rental trucks at short notice
Helping determine exactly when to purchase new lift trucks
The forklift is only part of the solution
Hyster knows that a tough lift truck is even better when it comes with a strong partner to meet your unique needs.