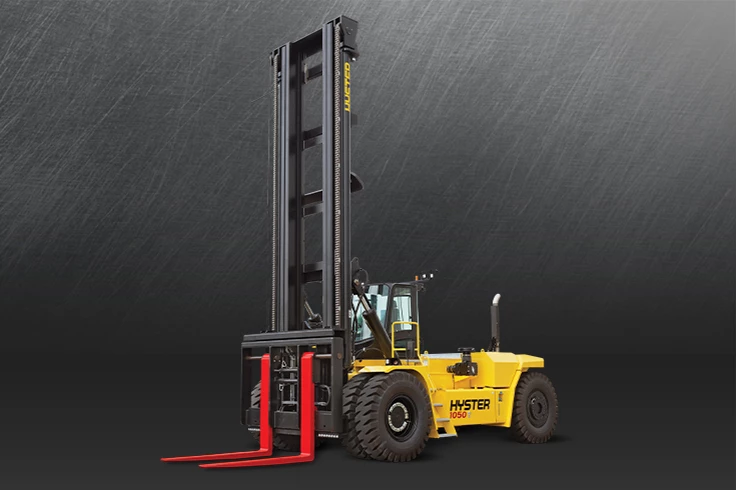 Heavy Duty Forklift Truck Pneumatic Tire
VERSATILE, POWERFUL AND DEPENDABLE
Modelos

H800-1050XD

Capacidad de carga

36000-48000kg
Designed to move your biggest loads with ease
Intelligent design
Low cost of ownership
Easily serviceable
Operator comfort
Performance optimization
Heavy-duty trucks for extreme duty applications
Intelligent design
Heavy-duty mast and carriages are engineered for long load centers, wide loads and specialty loads in heavy duty-cycle conditions.
Carriages are designed to have minimal capacity derate with apron sideshifting carriages, enabling the truck to provide close to full rated capacity under all operating conditions. Greaseable load rollers help the front end components to provide years of dependable performance. The mast, with robust mast channels, rollers, stub shafts and chain anchors, helps to prevent less mast deflections.
Available in short wheel base to deliver an optimum combination of compactness, nimbleness and agility for applications with space constraints requiring a tighter turning radius.
Low cost of ownership
Fuel consumption is a key driver of the total cost of ownership for heavy duty lift trucks. Hyster high capacity lift trucks are engineered with integrated powertrain system and on-demand hydraulics to deliver low fuel consumption with high levels of productivity.
The engine design produces more power and torque using XPI high-pressure, common-rail fuel injection and variable geometry turbochargers. Advanced controls enable the engine to provide peak performance and operating efficiency while delivering great fuel economy and durability.
Easily serviceable
Hyster forklifts are designed with the service technician in mind. The standard, powered, tilting operator compartment and the broad, removable floor plates provide quick access to key components, and daily checks do not require tilting the cab.
Major engine and drivetrain components are engineered to operate on 500-hour service intervals.
Extended hydraulic oil change intervals of 2000 hours help the truck remain in operation with longer time between oil changes or servicing.
Operator comfort
The ergonomically designed high visibility cab puts greater productivity within easy reach. Equipped with an armored glass top window, curved front and rear windows and steel doors with tempered glass, the operator cab provides excellent all-around visibility. Inside the cab there is more space with the largest entry area in the industry, more control with a full-color screen displaying performance data at the operator's fingertips and more comfort with an exclusive lateral sliding seat, adjustable steering column and foot pedal, plus ergonomic controls.
Curved, scratch resistant, tempered glass front and rear windshields, FOPS certified armored glass top window and one piece steel-framed glass doors provide operators with excellent all-around visibility. On the exterior, sloping counterweights enhance visibility of steer tires for improved maneuverability and reduced tire gouging.
Performance optimization
Trucks feature performance optimization developments such as cooling on demand, load sensing hydraulics, RPM management, alternate engine idle speed and multiple oil-immersed brakes with cooling system. All of these features provide reliability and low cost of operation to help further reduce the total fuel consumption in most applications. The width of the heavy duty drive axle, with reinforced spindles with double reduction provides stability and durability when handling the heaviest loads.
The high-performance powertrain has built-in engine and transmission protection systems, providing maximum reliability and a low total cost of ownership. Fast travel speeds and lifting speeds help contribute to reduced operating costs during a shift with class-leading lift speeds.
| Modelo | Capacidad de carga | Centro de carga | Altura de elevación | Radio de giro | Ancho promedio | Peso | Tipo de motor | Transmisión |
| --- | --- | --- | --- | --- | --- | --- | --- | --- |
| H1050XD | 48000kg | 1200mm | 9894mm | 7791mm | 4200mm | 55150kg | Cummins QSL 9L Diesel | Dana S.O.H TE 30 |
| H800XD | 36000kg | 1200mm | 9894mm | 7100mm | 4200mm | 52385kg | Cummins QSL 9L Diesel | Dana S.O.H TE 30 |
| H900XD | 40000kg | 1200mm | 9894mm | 7100mm | 4200mm | 55525kg | Cummins QSL 9L Diesel | Dana S.O.H TE 30 |
| H970XD | 44000kg | 1200mm | 9894mm | 7100mm | 4200mm | 57754kg | Cummins QSL 9L Diesel | Dana S.O.H TE 30 |
| H1050XDS | 48000kg | 1200mm | 9894mm | 7100mm | 4200mm | 60963kg | Cummins QSL 9L Diesel | Dana S.O.H TE 30 |
ASISTENCIA DURANTE TODO EL CICLO DE VIDA DEL MONTACARGAS
Distribuidores expertos y fiables marcan la diferencia
Cuando se trata de colaborar con un distribuidor de montacargas, no puede conformarse: necesita distribuidores totalmente centrados en su éxito. Cuando adquiere equipos o soluciones tecnológicas de Yale Tecnología en Montacargas, obtiene acceso a nuestra red de distribuidores independientes. "Independiente" significa que nuestros distribuidores no están limitados por la propiedad de la fábrica ni por la burocracia corporativa.
Nuestros distribuidores están totalmente centrados en satisfacer sus necesidades
Una experiencia fluida, desde el pedido hasta la fábrica, incluyendo la asistencia permanente
Recomendaciones eficaces y asistencia rápida, desde piezas, mantenimiento y Servicios de
emergencia, gestión de flotas, alquiler de montacargas y capacitación de operadores.
Experiencia y orientación sobre características especiales y productos y servicios relacionados para su almacén , como estanterías, protecciones y equipos de
Asistencia con opciones de financiación.
Introducing the XD series cab for Hyster Big Trucks
Reimagined design that maximizes operator comfort and uptime.
Climb Inside