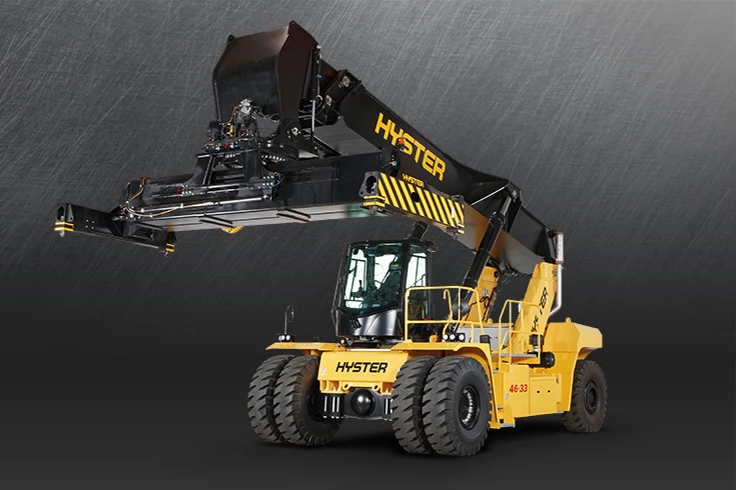 HYSTER CONTAINER HANDLERS FOR OUTSTANDING FLEXIBILITY
Models

RS46

Capacity

14000-46000kg
Hyster container handlers feature a wide range of configurations and options provide an excellent match to many different applications, which may include container handling, intermodal container handling, barge handling, container tipping, steel or wind operations to name just a few.
Versatility in application
Energy efficient
Engineered to excel
Operator friendly cabin design
Performance optimisation
Introducing the XD series cab for Hyster Big Trucks
Reimagined design that maximises operator comfort and uptime.
Climb inside
OUTSTANDING MANEUVERABILITY AND SUPERIOR HANDLING SPEEDS
Hyster container handlers are designed to achieve maximum space utilisation in intense container terminals and ports. They offer outstanding manoeuvrability and superior handling speeds with no loss of power at full capacity for demanding loads.

Long regarded as one of the most reliable and robust container handlers in the world, the Hyster® ReachStacker's energy-efficient technologies can offer proven fuel savings of up to 25%.
Versatility in application
The innovative Hyster® ReachStacker is available in a wide range of configurations and options providing unprecedented flexibility to perform tasks in many different applications including 2nd rail handling, container dumping, windmill blade and tower handling, steel handling and barge handling.
A Hyster® ReachStacker can be equipped with a toolchanger attachment giving the operator the ability to more easily and quickly switch between different attachments (i.e. slab tongs & magnets, c-hooks, pipe clamps) and enable a leaner, more productive fleet for steel operations.
Energy-efficient
Reduce fuel consumption while maintaining productivity and lifting speeds, bringing the cost per load moved down. Choose a truck with selectable ECO modes (eLo and Hi-P) and you can balance maximum productivity with excellent fuel economy levels that work for you.
Applications handling at long load centres with ReachStackers can also increase performance thanks to extra low-end engine torque on the new Stage V engines. Noise at inland terminals can also be reduced.
Stage V engines use a combination of a Selective Catalytic Reduction (SCR), DEF (like AdBlue®) and a Diesel Particle Filter (DPF). With a cooled EGR, which minimises the creation of NOx, there is less DEF used and with smart monitoring and service, uptime is optimised in demanding applications.
Engineered to excel
The new boom design is proven to offer increased durability, easier maintenance, as well as less wear and improved component life. This lowers service costs helping to reduce overall operating costs.
The durable 2-stage boom design is constructed from T-1 steel, with two plane welding for additional strength. The one-piece frame features reinforced welding of the main sections with heavy duty rear supports.
The uniquely wide spaced boom head provides strong support for the
spreader which makes light work of handling 20'- 40' ISO Containers.
The heavy-duty steer axle is engineered for long life and outstanding steering capability.
The unique and patented Hyster stabilizer utilizes dynamic pressure, meaning approximately 24% of the front loading will remain on the front axle, giving extra side stability and lower ground loading. The heavy duty, innovative stabilizer has rapid deployment, increases stability and reduces tire wear on the rear axle.
Ergonomic cab
The Hyster® ReachStacker cab provides excellent comfort for operators working in the toughest applications and extreme weather conditions. Equipped with an armored glass top window, curved front and rear windows and steel doors with tempered glass, the operator cab provides excellent all-around visibility.
Ergonomically designed, the high visibility cab puts greater productivity within easy reach. The cabin includes a dual digital display with load weight and load moment information, as well as boom geometry, as standard. This helps support operators with suggested actions for maintaining stability and reducing load-centre
The cab is designed to minimize noise and vibration levels for the operator and the ergonomically designed superior seating and generous space provides maximum comfort for the operator and helps to reduce fatigue.
Performance optimisation
A harmonised system design which includes automatic throttle-up, on-demand hydraulics, on-demand cooling and hibernate idle help to reduce fuel consumption on Hyster® trucks under varying load conditions. These Hyster® solutions can provide significant savings in fuel consumption and maintenance costs over the life of the truck.
Innovative ECO modes: Hi-P and e-Lo
Hi-P provides maximum performance and good fuel economy
e-Lo provides minimum fuel consumption without losing productivity
| Model | Load Capacity | Load Centre | Lift Height | Turning Radius | Overall Width | Weight | Engine | Transmission | Stacking Height 1st Row | Stacking Height 2nd Row | Stacking Height 3rd Row | Load Capacity 1st Row | Load Capacity 2nd Row | Load Capacity 3rd Row |
| --- | --- | --- | --- | --- | --- | --- | --- | --- | --- | --- | --- | --- | --- | --- |
| RS46-33XD/62 | 46000kg | 1865mm | 15260mm | 8420mm | 4200mm | 72200kg | MTU 10.7L Diesel | Dana S.O.H TE 30 | 5 / 5 | 4 / 5 | 3 / 4 | 46000kg | 33000kg | 17000kg |
| RS46-36XD/62 | 46000kg | 1865mm | 15355mm | 9200mm | 4200mm | 79300kg | MTU 10.7L Diesel | Dana S.O.H TE 30 | 5 / 5 | 4 / 5 | 3 / 4 | 46000kg | 36000kg | 19000kg |
| RS46-41XD/67 | 46000kg | 1865mm | 15355mm | 9300mm | 4200mm | 82600kg | MTU 10.7L Diesel | Dana S.O.H TE 30 | 5 / 5 | 4 / 5 | 3 / 4 | 46000kg | 41000kg | 23000kg |
| RS46-41XD/62S | 46000kg | 1865mm | 15355mm | 9200mm | 4200mm | 83600kg | MTU 10.7L Diesel | Dana S.O.H TE 30 | 5 / 5 | 4 / 5 | 3 / 4 | 46000kg | 36000kg | 21000kg |
| RS46-41XD/67S | 46000kg | 1865mm | 15355mm | 9300mm | 4200mm | 84600kg | MTU 10.7L Diesel | Dana S.O.H TE 30 | 5 / 5 | 4 / 5 | 3 / 4 | 46000kg | 41000kg | 23000kg |
| RS46-29XD/62 | 46000kg | 1865mm | 15260mm | 8420mm | 4200mm | 68500kg | MTU 10.7L Diesel | Dana S.O.H TE 30 | 5 / 5 | 4 / 5 | 3 / 4 | 46000kg | 29000kg | 14000kg |
| RS46-41XD/75S | 46000kg | 1865mm | 15225mm | 10650mm | 4200mm | 84650kg | MTU 10.7L Diesel | Dana S.O.H TE 30 | 5 / 5 | 4 / 5 | 3 / 4 | 46000kg | 41000kg | 25000kg |
Quality processes manufacturing
See how our high capacity forklift trucks, Empty Container Handlers, ReachStackers and Top Picks are built in our factory in Nijmegen, the Netherlands.
Watch Video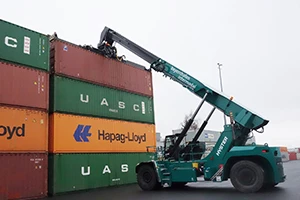 CASE STUDY
BAYERNHAFEN BAMBERG
In 2008, the bimodal transhipment facility for combined transport opened in bayernhafen Bamberg, which is operated by baymodal Bamberg GmbH.
Learn more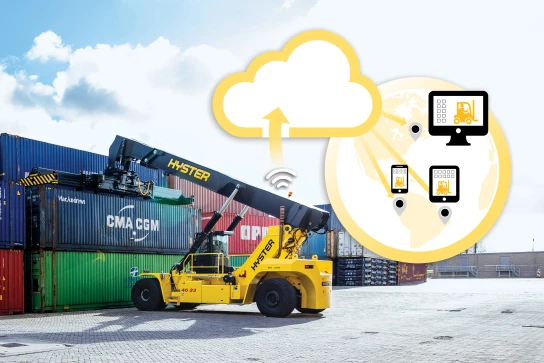 MANAGE YOUR BIG ASSETS
LEVEL 1 TELEMETRY STANDARD ON BIG TRUCKS
Help promote safety & operator confidence, regulatory compliance, and improve operational transparency. Our cloud-based wireless monitoring provides actionable insights giving you a thorough look into your fleet's day-to-day operations so your team can work smarter.
Explore Hyster Tracker
The truck is only part of the solution
Hyster knows that a tough truck, is even better when it comes with a strong partner to meet your unique needs.