Case Study
Southeastern Intermodal Industries
Port and Terminals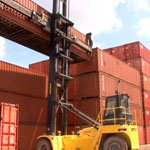 Southeastern Intermodal Industries offers the widest array of intermodal services in all of South Florida.

Founded in 1981 they have become the premiere source for your intermodal needs. The business grew and Southeastern Intermodal Industries needed help handling their increasingly demanding container handling needs. They turned to Hyster Company seeking the support they needed. Click below to learn how they managed the growing pain and formed a relationship with Hyster Company that is lasting decades.
Southeastern Intermodal Industries needed reliable and productive materials handling equipment that could keep up with the demands of their busy container business.
Southeastern Intermodal Industries turned to Hyster Company and their full line of products to handle the company's numerous materials handling needs. The company's most recent purchase, the Hyster® H450HD-EC empty container handler, features superior ergonomic design of the cab and controls.
Due to the increased productivity from the lift truck's durable construction and ergonomic design, along with outstanding service from their dealer, Briggs Industrial Equipment, Southeastern Intermodal Industries has experienced decreased downtime—benefiting the company's bottom line and making them a loyal customer of Hyster and Briggs.
WHAT OUR CUSTOMERS ARE SAYING
"First the quality of the machine is superior to any other machines. My background is a mechanic and I want to be a millionaire. So I know about machines, all kinds of machines, and I can assure you that Hyster is the best machine in the world, in any category."

Angel J. Dones - President & C.E.O., Miami, FL