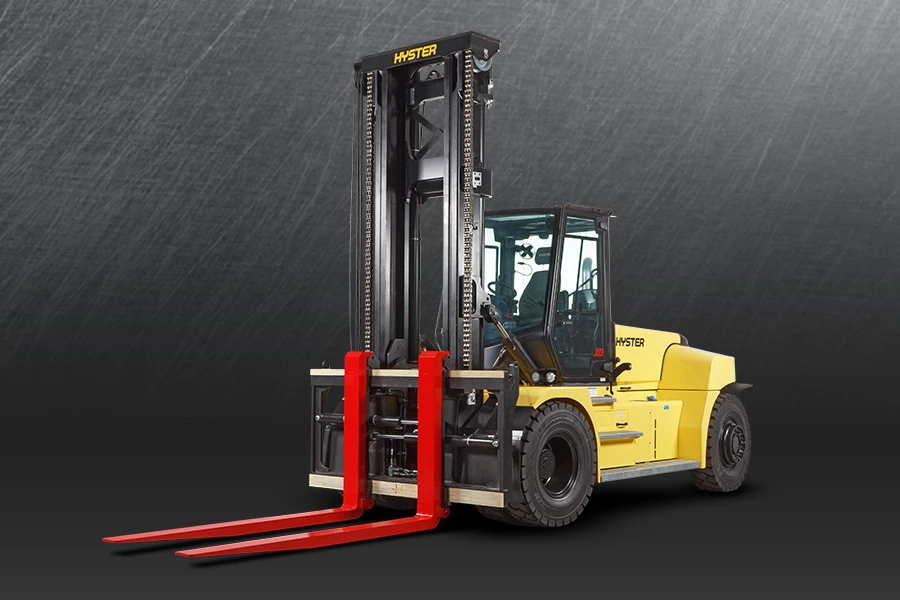 GET PRODUCTIVE IN HEAVY DUTY APPLICATIONS
Models

H8-18XD

Capacity

8500-18000kg
Heavy duty forklift trucks with high uptime and low TCO in demanding applications.
Stage V compliant
Optimum serviceability
Ergonomic cab
Robust chassis design
Low cost of ownership
Excellent visibility
Scalability between the various models
Discover Hyster H8-18XD forklifts
These Hyster lift trucks feature an operator-friendly cabin which is easy to get on and off, and spacious inside. Plus, the redesigned mast and carriage creates a wider view for the operator. The cab and front-end design focus on visibility, ergonomics, and comfort to help drive operator productivity throughout an entire shift.
Increased productivity. Reduced emissions.
The H9-18XD series is the latest evolution of Hyster® 9-18 tonne capacity lift trucks with 20 models to meet technological developments, changes in legislation and customer needs.

With Stage V engines, businesses can expect low running costs in terms of fuel and AdBlue® consumption, heightening productivity and lowering the Total Cost of Ownership in demanding applications where cost pressures are having a big impact.
Stage V compliant
To help customer meet legislation and move towards a sustainable future, the H9-18XD series provides you with stage V compliant engine with all the benefits that come with it. Such as combining a Selective Catalytic Reduction (SCR), a Diesel Exhaust Fluid (DEF) like AdBlue® and a Diesel Particulate Filter (DPF).
For easy access and heat rejection, both after-treatment units are packed in one box and conveniently positioned on the outside of the truck.
All this allows for compliance to the Stage V requirement without compromising on the Hyster promised performance.
Optimum serviceability
Hyster forklifts are designed with the service technician in mind. Gull-wing hoods provide quick access to key components, and daily checks don't require tilting the cab.
A tilting cab provides easy access to hydraulic components in seconds. Galvanized, broad, slip-resistant running boards foster quick daily checks, while a large access bay enables easy radiator cleaning.
One clear 7 inch full-colour Integrated Performance Display provides businesses and operators with key truck performance data and on-board diagnostics, including oil level and coolant level.
Due to the scalability service technicians are able to standardise maintenance schedule across the wider product series for companies with large fleet sizes or companies requiring maximum uptime.
Ergonomic cab
The ergonomically designed high visibility cab puts greater productivity within easy reach. Equipped with an armoured glass top window, curved front and rear windows and steel doors with tempered glass, the new operator cab provides excellent all-around visibility.
Inside the cab there is more space with the largest entry area in the industry, more control with a full-colour screen displaying performance data at the operator's fingertips and more comfort with an exclusive lateral sliding seat, adjustable steering column and foot pedal, plus ergonomic controls.
The quiet and comfortable cab has an award-winning design, and the largest cabin entry area in the industry making it easy to get on and off.
Thanks to the new cast counterweight bounce is minimised giving operators an improved sense of stability within the XD cab.
Robust chassis design
The robust frame and wide drive axle provide rock solid stability and long-term durability when handling loads at full capacity.
The 2-stage mast and carriage are designed for a variety of heavy duty applications. More space between mast channels gives enhanced visibility of the attachment due to moving the chains to the outside of the mast without any compromise on the Hyster robustness.
Operators can see through and over the carriage which helps provide ideal levels of visibility for ground level and lorry bed height maneuvers. Carriages have slimline top bars with an intelligently located valve block.
Reduced "lost load" centres: the more open design results in less weight on the carriage and gets the load closer to the truck.
Low cost of ownership
Fuel consumption is a key driver of the total cost of ownership for heavy duty lift trucks. Hyster high capacity lift trucks are engineered with integrated powertrain system and on-demand hydraulics to deliver low fuel consumption with high levels of productivity.
Adjustable steering angle provides reduced tyre wear by offering 2 steering behaviours for application suitability: Maximum steering angle gives freedom of maneuverability in tight locations. In unconstrained spaces a smaller steering angle allows for decreased friction on the tyre. Both options allow for the lowest cost of ownership.
Excellent visibility
Open carriage design, mast chains mounted on the outside of the mast and increased space between mast channels and valve block location enable enhanced forward view of fork tips at travel and load height.
Curved, scratch resistant, tempered glass front and rear windshields, armoured glass top window and steel-framed glass doors provide operators with excellent all-around visibility. On the exterior, sloping counterweights enhance visibility of steer tyres for improved maneuverability and reduced tyre wear.
Scalability between the various models
Different truck configurations are available, as well as special engineering options, to accommodate other application-specific requirements, from a reversing fan to improve cooling in dusty paper or construction operations, or different handling attachments to accommodate the load variation encountered in the wood industry. The scalability allows cross over of spare parts over the complete series for operations with large fleet.
| Model | Load Capacity | Load Centre | Lift Height | Turning Radius | Overall Width | Weight |
| --- | --- | --- | --- | --- | --- | --- |
| H8XD6 | 8500kg | 600mm | 7000mm | 5731mm | 2541mm | 13270kg |
| H9XD6 | 9500kg | 600mm | 7000mm | 5731mm | 2541mm | 13804kg |
| H9XDL6 | 9500kg | 600mm | 7000mm | 4111mm | 2541mm | 13535kg |
| H10XDS6 | 10500kg | 600mm | 7000mm | 5920mm | 2541mm | 14883kg |
| H10XD6 | 10500kg | 600mm | 7000mm | 4637mm | 2541mm | 14470kg |
| H10XD12 | 10500kg | 1200mm | 7000mm | 4637mm | 2541mm | 18631kg |
| H12XD12 | 12500kg | 1200mm | 7000mm | 4953mm | 2541mm | 19754kg |
| H12XD6 | 12500kg | 600mm | 7000mm | 4637mm | 2541mm | 15882kg |
| H13XDS6 | 13500kg | 600mm | 7000mm | 4637mm | 2541mm | 18629kg |
| H13XD6 | 13500kg | 600mm | 7000mm | 4637mm | 2541mm | 17806kg |
| H14XDS6 | 14500kg | 600mm | 7000mm | 4637mm | 2541mm | 19328kg |
| H14XD12 | 14500kg | 1200mm | 7000mm | 4953mm | 2541mm | 22353kg |
| H14XD6 | 14500kg | 600mm | 7000mm | 4637mm | 2541mm | 18483kg |
| H16XDS12 | 16400kg | 1200mm | 7000mm | 4968mm | 2541mm | 23461kg |
| H16XD12 | 16400kg | 1200mm | 7000mm | 5200mm | 2541mm | 22681kg |
| H16XDS9 | 16400kg | 900mm | 7000mm | 4953mm | 2541mm | 21654kg |
| H16XD6 | 16500kg | 600mm | 7000mm | 4637mm | 2541mm | 19459kg |
| H18XD9 | 18200kg | 900mm | 7000mm | 5200mm | 2541mm | 22181kg |
| H18XD6 | 18200kg | 600mm | 7000mm | 4953mm | 2541mm | 20897kg |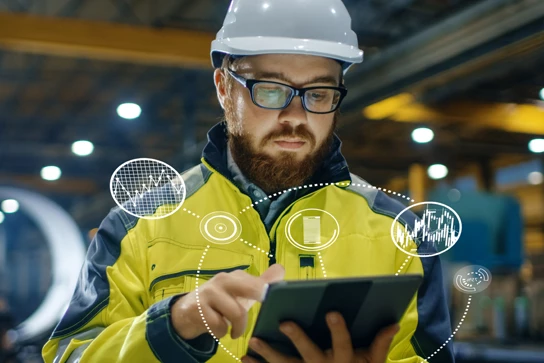 WIRELESS ASSET MANAGEMENT
HYSTER TRACKER
Hyster Tracker provides true wireless fleet management, can drive fleet efficiency, improves operator performance, reduces your carbon footprint and lowers your overall material handling costs.
Explore Hyster Tracker