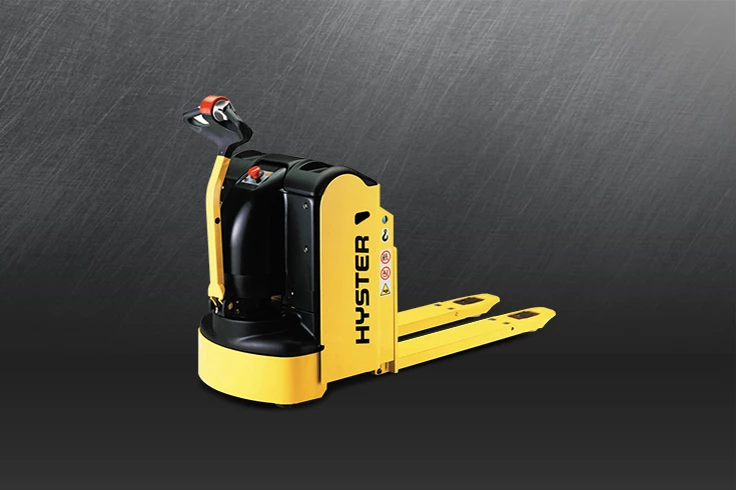 Heavy Duty Low Lift Pallet Truck
HEAVY-DUTY APPLICATIONS
Longer shift life, lower costs and super reliability from the Hyster heavy duty pedestrian pallet trucks and handling equipment.
Durable frame with integral forks
MOSFET Controller
Ergonomic tiller head control
Low cost of ownership
Easy maintenance
Expect more and get it.
Energy efficiency, low maintenance and proven reliability combine to provide one of the lowest lifetime costs in the market.

Powerful motor speeds, fast response, long battery life and superb maneuverability ensure operators can continue to work hard in the most demanding applications.
Durable frame with integral forks
Durable frame construction, with integrated welded forks, ensures high truck rigidity, allowing the truck to handle heavy loads.
The battery compartment features a reinforced bumper section that protects the truck against collision.
The heavy duty tandem load wheels allow for heavier loads to be transported.
The compact chassis design improves maneuverability and improves operator productivity.
MOSFET Controller
The MOSFET high frequency Combi controller controls traction and hydraulics, allowing progressive speed control as well as delivering optimum energy efficiency.
The powerful SEM traction motor provides superior performance and increased loads moved per hour.
Ergonomic tiller head control
The tiller head is ergonomically designed for maximum operator comfort, contributing to reduced operator fatigue.
The Automatic braking control is adjustable according to the performance level chosen by the operator for example soft/medium/hard.
The dual lift/lower button control allows operation by either hand to suit operator preference and comfort.
The responsive butterfly switch controls travel speed, direction and braking providing a smooth start, controlled braking and acceleration.
The creep speed button allows the truck to be maneuvered with the tiller arm in the vertical position, enabling the operator to work more effectively in confined spaces.
Low cost of ownership
Regenerative braking increases braking efficiency and reduces maintenance costs.
A choice of capacity motor and battery sizes enables the truck to be correctly configured to match the application needs. Whilst power is transmitted via helicoidal gears, which are positioned in an oil bath, to reduce component wear and tea.
An hour-meter and battery discharge indicator with lift interrupt as standard informs the operator of recharge requirements.
Easy maintenance
The on-board diagnostic display provides an early warning of maintenance requirements.
To further reduce unplanned downtime. Easy access to the motor and key components reduces downtime.
Operational costs are minimized with the provision of recommended service intervals of 1000 hours
| Model | Load Capacity | Lift Height | AST (wide / long) | Battery Capacity | Weight |
| --- | --- | --- | --- | --- | --- |
| P2.5 | 2500kg | 120mm | 2534 / 2397mm | 24V / 210-300Ah(V/Ah) | 633kg |
| P3.0 | 3000kg | 120mm | 2534 / 2397mm | 24V / 210-300Ah(V/Ah) | 633kg |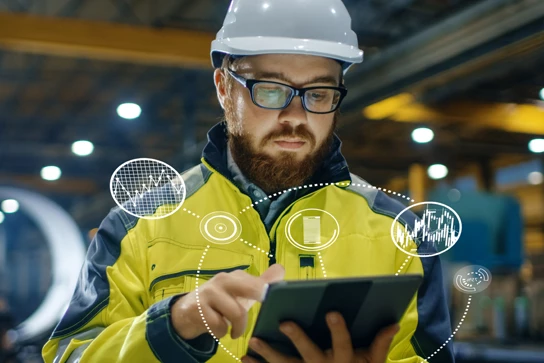 WIRELESS ASSET MANAGEMENT
HYSTER TRACKER
Hyster Tracker provides true wireless fleet management, drives fleet efficiency, improves operator performance, reduces your carbon footprint and lowers your overall material handling costs.
Explore Hyster Tracker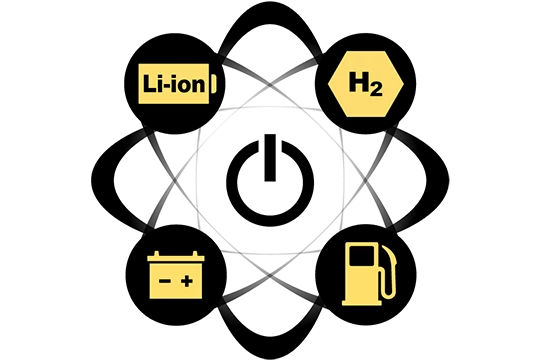 POWER YOUR POSSIBILITIES
HYSTER POWER MATCH
Not all power is the same. Learn how a better-matched power source could make a difference in your operations.
Pinpoint your power
The truck is only part of the solution
Hyster knows that a tough truck, is even better when it comes with a strong partner to meet your unique needs.