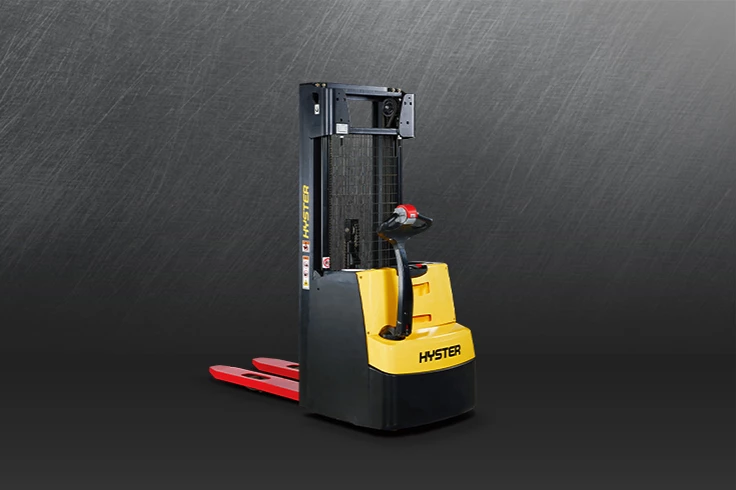 Pedestrian High Lift Stacker
LIGHT TO MEDIUM-DUTY APPLICATIONS
Models

S1.0-2.0, S1.2-1.6 IL

Capacity

1000-2000kg
Tough and reliable pedestrian stackers with the lowest energy consumption in the industry
Robust compact design
AC motor
Ergonomic design
Increased productivity
Low maintenance
Tough with maximum control and visibility
Hyster® S1.0-2.0 pedestrian stacker is easy to manoeuvre while stacking and retrieving loads at low and medium lift heights.

These reliable and energy-efficient pedestrian stackers are designed for horizontal load transfer over short and medium travel distances, delivering a low cost of operation.
Robust compact design
The truck's robust chassis design features a one-piece base frame with no welded arms and a pressed bumper. The bumper's rounded design and increased thickness provides greater protection for the operator's foot, as well as increased robustness. The compact
design allows ease of operation and turning in smaller aisles. Operators have excellent visibility through the mast thanks to the uniquely designed profiles that reduce the total mast channel width. The lift cylinders are also positioned for optimum visibility meaning operators can clearly see the load arms when collecting and depositing loads.
AC motor
The full AC infrastructure on motor allows seamless changes in direction of travel, resulting in increased cycle speeds and greater pallet handling control. Fast lifting and lowering speeds with height options of up to 6m. Two stage NFL/FFL and three stage FFL masts are
available with options to handle open and closed pallets (with straddle legs and FEM forks configuration)
Ergonomic design
The tiller arm is mounted in a mid height offset position with a reduced operating space, resulting in low effort steering and enhanced function control. For travel over uneven floors, door sills and/or ramps, three models feature initial lift. Adjustable performance settings to
suit the application.
Increased productivity
The truck's 1.2 kW traction motor delivers powerful acceleration and an increased travel speed for superior performance and increased productivity thanks to powerful acceleration and travel speeds up to 6km/h (pedestrian) and 8.5km/h (standing), which can be limited to
suit the application Class leading lowest energy consumption makes the Hyster® Platform Stacker one of the most cost-effective solutions on the market.
Low maintenance
From alarms and digital battery indicators to hour meters and error codes, the dashmounted display provides operators all the key data they need at a glance. The built-in diagnostic system and CANbus technology provides enhanced functionality and reliability, and helps minimise servicing requirements. The stacker is easy to service and features quick remove covers with service intervals of the hydraulic oil and filter of 3000 hours or 3 years and there is a standard warranty of 24 months.

There are many options to suit specific applications including key and keypad start system, several fork lengths, cold store protection, a wide range of drive wheels, Pedestrian Awareness Light, many battery and charging variants and much more.
| Model | Load Capacity | Lift Height | AST (wide / long) | Battery Capacity | Weight |
| --- | --- | --- | --- | --- | --- |
| S1.0 | 1000kg | 3800mm | 2307 / 2293mm | 24V / 150-200Ah | Li-ion 24V / 200Ah(V/Ah) | 956kg |
| S1.2 | 1200kg | 4900mm | 2359 / 2345mm | 24V / 210-250Ah | Li-ion 24V / 200Ah(V/Ah) | 1005kg |
| S1.2IL | 1200kg | 4900mm | 2449 / 2436mm | 24V / 200-250Ah | Li-ion 24V / 200Ah(V/Ah) | 1111kg |
| S1.4IL | 1400kg | 5460mm | 2449 / 2436mm | 24V / 200-375Ah | Li-ion 24V / 300Ah(V/Ah) | 1111kg |
| S1.4 | 1400kg | 5460mm | 2359 / 2345mm | 24V / 210-375Ah | Li-ion 24V / 200-300Ah(V/Ah) | 1038kg |
| S1.6IL | 1600kg | 6020mm | 2518 / 2505mm | 24V / 315-375Ah | Li-ion 24V / 300Ah(V/Ah) | 1187kg |
| S1.6 | 1600kg | 6020mm | 2428 / 2414mm | 24V / 315-375Ah | Li-ion 24V / 300Ah(V/Ah) | 1145kg |
| S1.6 SL | 1600kg | 5460mm | 2504 / 2490mm | 24V / 315-375Ah(V/Ah) | 1431kg |
| S2.0 | 2000kg | 4000mm | 2428 / 2414mm | 24V / 315-375Ah | Li-ion 24V / 300Ah(V/Ah) | 1151kg |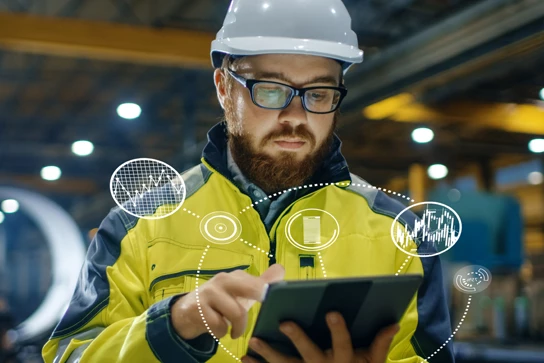 WIRELESS ASSET MANAGEMENT
HYSTER TRACKER
Hyster Tracker provides true wireless fleet management, drives fleet efficiency, improves operator performance, reduces your carbon footprint and lowers your overall material handling costs.
Explore Hyster Tracker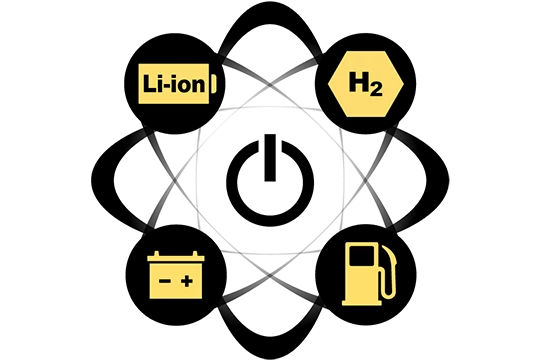 POWER YOUR POSSIBILITIES
HYSTER POWER MATCH
Not all power is the same. Learn how a better-matched power source could make a difference in your operations.
Pinpoint your power
The truck is only part of the solution
Hyster knows that a tough truck, is even better when it comes with a strong partner to meet your unique needs.