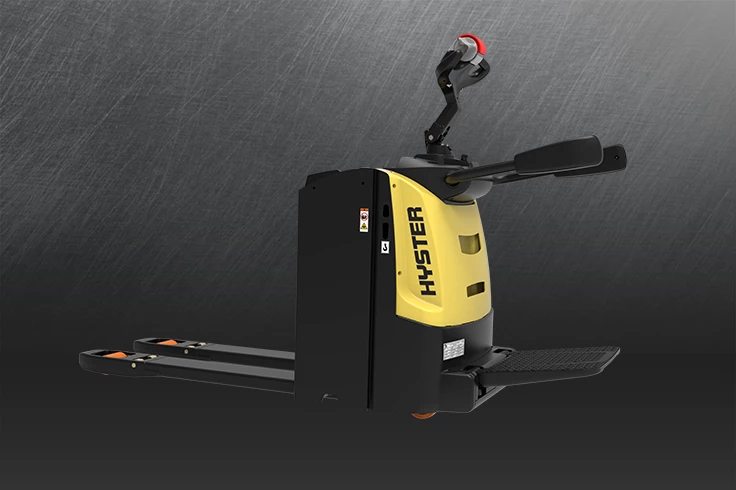 ELECTRIC PALLET JACK HYSTER FOR MEDIUM TO HIGH INTENSITY APPLICATIONS
Models

P2.0-3.0S

Capacity

2000-3000kg
Lower lifetime costs. Higher productivity. The P2.0-3.0S series of electric platform pallet jack Hyster trucks are built to be tough, dependable and efficient.
Robust design
Impressive drive speeds
Ergonomic design
Low operating costs
Simple maintenance
Lower lifetime costs. Higher productivity.
Designed for higher performance and lower operating costs, the P2.0S-3.0S Series of Platform Pallet trucks optimise horizontal transportation, even in the most confined spaces. The new series comes with a large variety of forks options, the longer ones allowing to transport up to three Europallets crosswise.
Robust design
Made to perform and built to last, the robust chassis design has the added protection of a pressed bumper. The side arms, a single robust piece rotating upwards around horizontal axis, and side and rear protections, bolted to dedicated reinforcements to the frame, provide the right level of robustness, while the suspended Motor Drive Unit grants a good level of shock absorption reducing stress on the frame and the electronic components. The steel battery cover prevent damage from falling objects.
Impressive drive speeds
Operator cycle times are improved with performance and precision. Impressive traction speed up to 13km/h unladen and 9.7km/h laden, combined with progressive speed reduction. Switch with ease from pedestrian to ride-on mode with the foldable operator platform.
Ergonomic design
Electric Steering minimises operator fatigue to maximise productivity. The wide foldable (540 x 430mm) and fixed (516 x 456mm) platform minimises vibrations, and a low platform height simplifies access. Rear and side protection provide robust support, while easy open side arms require minimal effort to lift and lower. For an enhanced driving position, an optional adjustable tiller, which can be adjusted at the touch of a button, is available for the foldable platform version. For the fixed platform, a standard adjustable scooter control is provided. Operatives can choose from 7 driving settings, 3 pre-configured and 4 customizable, to suit their skill levels.
Low operating costs
Cost of ownership is lowered by managing energy consumption to minimising downtime and reducing maintenance costs. Smart speed limitations enable the operator to choose the optimum productivity settings for each individual application. Increased fork visibility limits the risk of damage to both the truck and goods. Long 1000h service intervals and a 24 months warranty are provided as standard. Rapid recharging and quick-change batteries reduce downtime.
Simple maintenance
Easy access and clear diagnostics make maintenance simple. Exposed parts can be replaced fast with minimal effort – the foldable platform is bolted in just four places. The smart telemetry system allows early warning and fault code messaging. The display provides error codes, battery status and hourmeter. A diagnostic port, positioned next to the tiller, allows quick an easy service access, without having to dismount the motor cover. All of these devices allow quick troubleshooting.
| Model | Load Capacity | Lift Height | AST (wide / long) | Battery Capacity | Weight |
| --- | --- | --- | --- | --- | --- |
| P2.0S platform with rear protection | 2000kg | 120mm | 2998 / 2912mm | 24V / 210 - 500Ah(V/Ah) | 807kg |
| P2.0S | 2000kg | 120mm | 2421 / 2335mm | 24V / 210 - 500Ah(V/Ah) | 678kg |
| P2.0S platform with side protection | 2000kg | 120mm | 2902 / 2816mm | 24V / 210 - 500Ah(V/Ah) | 823kg |
| P2.5S platform with rear protection | 2500kg | 120mm | 2998 / 2912mm | 24V / 315-500Ah(V/Ah) | 824kg |
| P2.5S platform with side protection | 2500kg | 120mm | 2902 / 2816mm | 24V / 315-500Ah(V/Ah) | 840kg |
| P2.5S | 2500kg | 120mm | 2492 / 2406mm | 24V / 315-500Ah(V/Ah) | 785kg |
| P3.0S platform with side protection | 3000kg | 120mm | 2902 / 2816mm | 24V / 315-500Ah(V/Ah) | 840kg |
| P3.0S | 3000kg | 120mm | 2492 / 2406mm | 24V / 315-500Ah(V/Ah) | 785kg |
| P3.0S platform with rear protection | 3000kg | 120mm | 2998 / 2912mm | 24V / 315-500Ah(V/Ah) | 824kg |