Hyster A Series
Premium fork positioners now available for Hyster A Series lift trucks
New premium integral side-shifting fork positioners are now available for Hyster® A series lift trucks to support industrial handling applications such as steel, timber, and chemical companies. The premium fork positioner solution has been developed by the Hyster Special Engineering Team for the new H2.0-3.5A series of forklifts.
How do fork positioners help?
Fork positioners provide the ability to move the forks on the lift truck closer or further away from each other. This gives applications greater flexibility in their fleet as a wider variety of load sizes can be handled, including those with unusual sizes or shapes. The ability to control the forks to accommodate varied loads without exiting the operator cab so often can help enhance the operator experience, making the working shift more comfortable.
For operations looking for greater productivity, fork positioners may improve load handling times and accuracy, which can also help minimise damage by helping position the forks correctly. With speedier cycle times, this can also reduce fuel consumption and truck wear.
Solutions for tough industries
The new fork positioner may be of particular interest to demanding materials handling applications in certain industries.
For example, in metal and steel handling applications, operators can adjust the position of the forks to help handle coils accurately, thereby reducing the risk of damage to the load. Likewise, in chemical applications, flexibility when positioning forks enables precise handling of bagged loads of sensitive materials, helping to avoid spillages. With fork positioners, timber applications can also benefit from the ability to handle different pallet sizes with the same truck. This feature can also help with handling of un-palletised and long loads, with adjustments to the forks helping support stability.
Fork positioners for the Hyster A series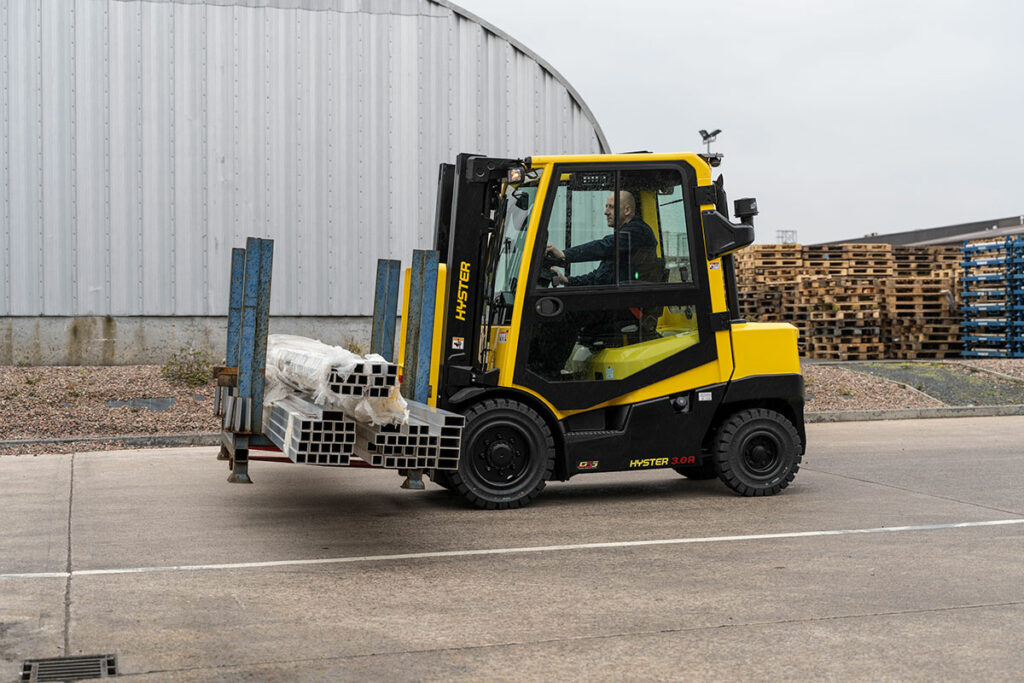 The Hyster A series lift trucks are distinctly Hyster, built for you. Each truck is designed with A+ Logic, a series of scalable and adjustable features which enables businesses to specify the exact lift truck that their application and operators need. Fine tuning the forklift in this way enables businesses to specify the right solution for their particular challenges, as well as their budget.
The new premium fork positioners provide yet another option for applications when scaling Hyster A series forklifts to meet an application's requirements. Designed with additional robustness, this new solution may be especially well suited to heavy-duty applications where fork positioning is required more frequently, or where there may be high levels of dust and dirt present.
Handling flexibility for demanding applications
The Hyster H2.0-3.5A forklifts are designed to help keep costs under control, with high quality components and design that reduce the amount of maintenance and service labour required. The new fork positioners offer durability to complement this.
For example, the long-life bushings with internal grease reservoir offer service intervals of up to 1000 hours. Service and maintenance are also simple, with bushings in the side-plates for easy replacement of shafts.
To support demanding operations, the new solution features larger hydraulic cylinders than standard fork positioners and supports forks up to 2400mm long and up to 125mm wide. For even greater flexibility, it can also be used with bolt-on forks.
Synchronised fork adjustment is easily achieved by exchanging oil between cylinders, and calibrating oil volumes each time the forks are closed. In tandem with the high performance and excellent all-round visibility of the Hyster A series lift trucks, this may help support productivity.
Specify your Hyster A series lift truck now
Speak to your local Hyster dealer about how this special engineering option for your Hyster A Series lift trucks can help in Powering your Possibilities in warehouses, manufacturing sites, ports, and container terminals.
Or learn more about the Hyster A series on the Hyster website.