Hyster Tracker
Take the Guess Work Out of Your Work
Real-time telemetry data on all of your trucks gives you a thorough look into your fleet's day-to-day operations so your team can work smarter.
Reduce avoidable damage
Comply with operator certifications/training
Digitise your preshift checklist
Extend truck and battery life
Have a real-time view of truck and operator utilisation
Hyster Tracker provides customers with insights and controls to improve operator behavior, control access to equipment, confirm pre-shift checklist completion, and monitor equipment and operator utilisation.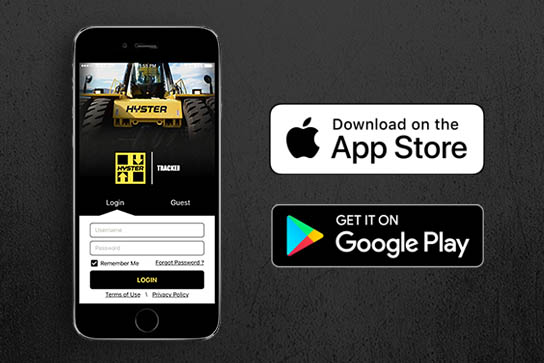 Mobile
Mobile Site Tool
The first of its kind in the material handling industry, the free Hyster Tracker mobile app offers a new level of data-driven productivity at your fingertips. Get impact alerts, checklist notification and have real-time access to data via an easy-to-use dashboard. Plus, add notes and photos to impact events and reactivate any locked-out machines with the touch of a button.
Learn more