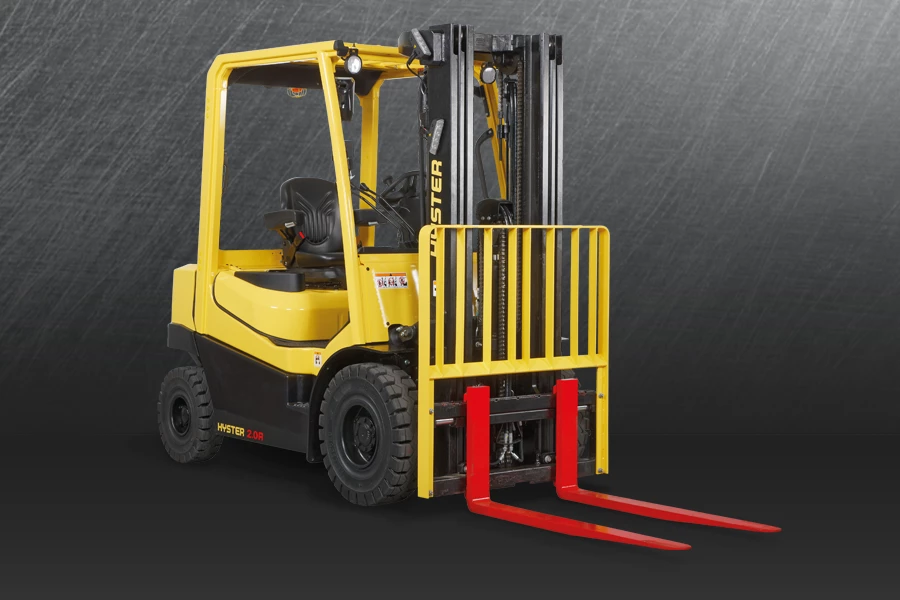 Internal combustion Forklift Pneumatic Tyre
DISTINCTLY HYSTER, BUILT FOR YOU
Models

H2.0-3.5A

Capacity

2000-3500kg
Designing your own Hyster H2.0-3.5A forklift truck, you get the comfort, cost and
performance benefits that suit your operation and your operators' needs. Plus, you get a
materials handling solution that suits your budget, as you are not including features that
you do not require.
Exceptional visibility
Operator-Centric Design
Low Total Cost of Ownership
High Performance and Productivity
Operator Assist Technology
Distinctly Hyster, Built for you
We understand that no two operators face identical challenges. So, instead of providing you with a truck we built, we build the truck you need. It's distinctly Hyster, built for you.
COMFORT, LOW COST, AND PERFORMANCE
Operator-Centric Design
The H2.0-3.5A series is designed for ergonomics and convenience, making it easier for operators of most sizes to stay comfortable during operation.
Large step size is 65% larger than leading competitors.
Flip-up arm rest offers unobstructed access during ingress and egress.
Spacious workplace with large floor, allows operators freedom of movement to remain comfortable during operation.
Dynamic seat adjustment accommodates a wide range of operator shapes and sizes.
Foot-activated, hand-released parking brake requires less effort than a hand-applied brake.
A standard, full-color touchscreen display provides quick and easy access to vital truck information.
Low Total Cost of Ownership
Keep costs under control with reduced service times. High quality components and design reduces the amount of maintenance and technician labour required per truck. Class leading fuel economy results in savings every hour of operation. *Diesel fuel consumption according to VDI EN16796. H2.5A with VDP hydraulic pump verses Linde H2.5D and Toyota 56-8FD25F
High Performance and Productivity
Excellent visibility gives you the ability to clearly see your surroundings. Other forklifts trucks, robotics, pedestrians and other vehicles are hazards to be avoided. Clear visibility is key to help avoid incidents and damage.
Operator Assist Technology
The optional Dynamic Stability System (DSS) works with the operator to promote operating best practices and provides audible and visual alerts that can be logged through the standard Hyster Tracker® telemetry system.
Optional operator assistance features, such as integrated object and proximity detection systems, provide alerts and automatically adjust truck performance based on real-time conditions to help reinforce proper operating practices and maintain productivity.
Exceptional visibility
A low dash and a wide mast give the operator excellent visibility of the fork tips
High-strength laminated glass roof provides an unobstructed upward view
The wide viewing window through the mast enhances visibility of forks and load
| Model | Load Capacity | Load Centre | Lift Height | Turning Radius | Overall Width | Weight | Engine | Transmission |
| --- | --- | --- | --- | --- | --- | --- | --- | --- |
| H2.5A | 2500kg | 500mm | 8550mm | 2263mm | 1160 / 1280 / 1542mm | 3990kg | Yanmar 2.1L Diesel / Yanmar 2.2L LPG | Powershift 1-speed / Duramatch |
| H3.0A | 3000kg | 500mm | 8070mm | 2374mm | 1186 / 1353 / 1545mm | 4642kg | Yanmar 2.1L Diesel / Yanmar 2.2L LPG | Powershift 1-speed / Duramatch |
| H2.0A | 2000kg | 500mm | 8550mm | 2191mm | 1160 / 1280 / 1542mm | 3613kg | Yanmar 2.1L Diesel / Yanmar 2.2L LPG | Powershift 1-speed / Duramatch |
| H2.5A6 | 2500kg | 600mm | 8550mm | 2333mm | 1186 / 1353 / 1545mm | 4292kg | Yanmar 2.1L Diesel / Yanmar 2.2L LPG | Powershift 1-speed / Duramatch |
| H3.5A | 3500kg | 500mm | 8070mm | 2449mm | 1186 / 1353 / 1545mm | 4910kg | Yanmar 2.1L Diesel / Yanmar 2.2L LPG | Powershift 1-speed / Duramatch |
Our dealers are our most important partners in helping you
We would not be where we are today without one of the most professional dealer networks in the industry. We work hard to design and manufacture the best lift trucks, but it is our stellar dealers that bring it all together for you.
Dealers help at every step of the process
Understanding your specific lift truck applications
Recommending special features to improve your productivity
Configuring the proper quotation
Helping with financing options when required
Prepping your truck for delivery after it leaves our factory
Arranging for operator training
Providing planned maintenance on your trucks
Supporting National Accounts management
Providing fleet management services, if needed
Providing emergency service and parts
Providing rental trucks at short notice
Helping determine exactly when to purchase new lift trucks
Extreme environmental conditions test
Fine-tune your Hyster® A Series lift truck with the cab options that suit your operating intensity and environment, with optimal comfort all shift long. You have to experience it to believe it.
WIRELESS ASSET MANAGEMENT
HYSTER TRACKER
Hyster Tracker provides true wireless fleet management, drives fleet efficiency, improves operator performance, reduces your carbon footprint and lowers your overall material handling costs.
Explore Hyster Tracker
The truck is only part of the solution
Hyster knows that a tough truck, is even better when it comes with a strong partner to meet your unique needs.