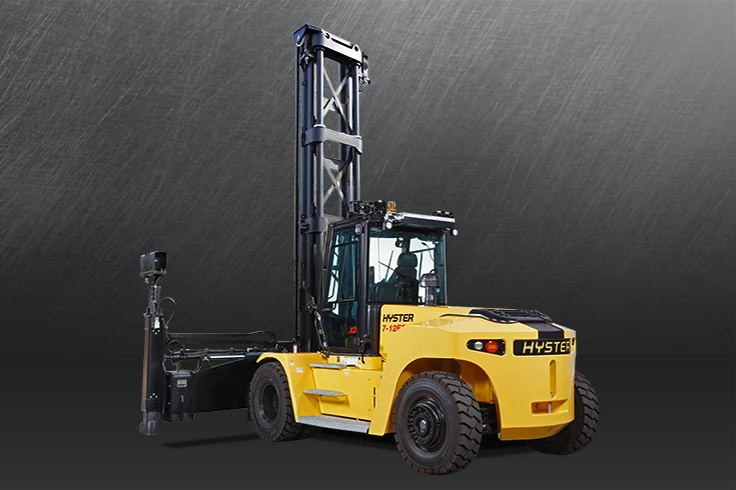 3/4 High Empty Container Handler
HEAVY-DUTY APPLICATIONS
Models

H6XD-12EC3-H7XD-12EC4

Capacity

6000-7000kg
Optimising costs in empty container handling operations
Robust, heavy-duty design
Operator friendly cabin design
Performance
Simplified service
AGILE SOLUTION FOR EMPTY CONTAINER HANDLING
When stacking empty containers only three or four high, the lighter and more compact Hyster® H6XD-12EC3 and H7XM-12EC4 empty container handlers can help reduce costs even further.

Based on the H13-16XD-6 forklift, the series has proven reliability and strength for the most intense applications where single stacks only reach three or four containers high.
Robust, heavy-duty design
The robust frame and wide drive axle provide rock solid stability and long-term durability when handling empty containers at full height. The truck is also equipped with a heavy-duty Vista mast and side lift spreader with movable vertical twistlocks. With a spreader to suit every application, Hyster Empty Container Handlers are engineered to offer outstanding solutions with highly advanced mast lift spreaders.
Spreader options include;
Model 586TB is a telescopic side lift spreader with vertical twistlocks for handling of one single empty ISO and Binnencontainer with a width up 8'6".
Model 588TB is a telescopic side lift spreader with vertical twistlocks for the handling of single empty ISO containers.
Operator-friendly cabin design
The ergonomically design high visibility cab puts greater productivity within easy reach. Equipped with an armoured glass top window, curved front and rear windows and steel doors with tempered glass, the new operator cab provides excellent all-around visibility.
Inside the cab there is more space with the largest entry area in the industry, more control with a full-colour screen displaying performance data at the operator's fingertips and more comfort with an exclusive lateral sliding seat, adjustable steering column and foot pedal, plus ergonomic controls.
Performance
Performance optimization developments include on-demand cooling, load sensing hydraulics, RPM management and alternate engine idle speed to help reduce the total fuel consumption in most applications.
Simplified service
Unobstructed access to the engine compartment and conveniently located checkpoints enables rapid and efficient maintenance.
All major components are readily accessible for servicing, resulting in shorter downtimes and increased productivity.
500-hour service intervals and parts common to the H13-16XD makes life easier for service engineers.
| Model | Load Capacity | Load Centre | Lift Height | Turning Radius | Overall Width | Weight | Engine | Transmission |
| --- | --- | --- | --- | --- | --- | --- | --- | --- |
| H6XD-EC3 | 6000kg | 1220mm | 6910mm | 4637mm | 2541mm | 22160kg | Cummins QSB 6.7 | ZF / 3WG161 |
| H7XD-EC4 | 7000kg | 1220mm | 9910mm | 4637mm | 2541mm | 24590kg | Cummins QSB 6.7 | ZF / 3WG161 |
Quality processes manufacturing
See how our high capacity forklift trucks, Empty Container Handlers, ReachStackers and Top Picks are built in our factory in Nijmegen, the Netherlands.
Watch Video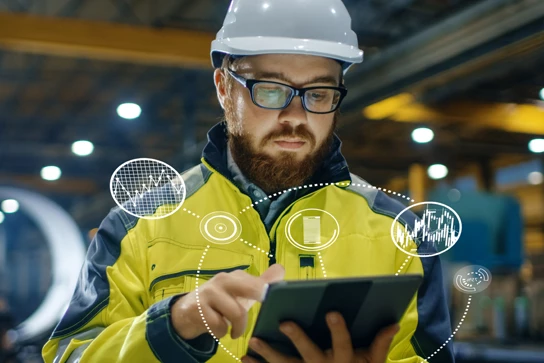 WIRELESS ASSET MANAGEMENT
HYSTER TRACKER
Hyster Tracker provides true wireless fleet management, can drive fleet efficiency, improves operator performance, reduces your carbon footprint and lowers your overall material handling costs.
Explore Hyster Tracker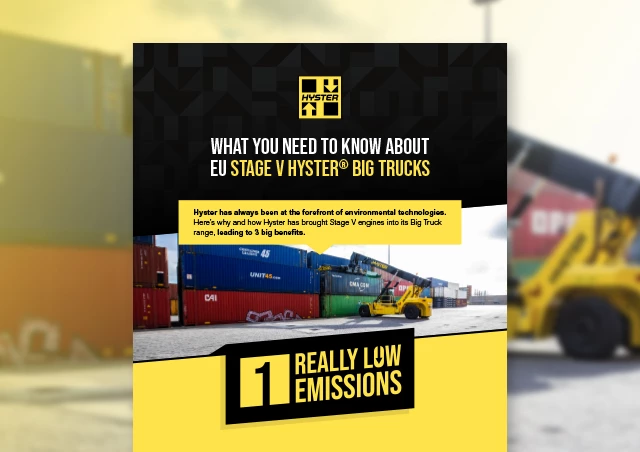 Stage V Engines for Big Trucks
WHAT YOU NEED TO KNOW ABOUT EU STAGE V HYSTER® BIG TRUCKS
Hyster has always been at the forefront of environmental technologies. Here's why and how Hyster has brought Stage V engines into its Big Truck range.
View infographic
Frequently asked questions
The truck is only part of the solution
Hyster knows that a tough truck, is even better when it comes with a strong partner to meet your unique needs.