Beverage
Condensing footprints, increasing SKUs
Online beverage sales are expected to quadruple by 2023 – increasing smaller, frequent deliveries . Are you meeting increasing demands?
Hyster, the Beverage People
Businesses and manufactures are under increasing pressures to produce more, transport greater load sizes and increase their warehousing capacity.
Varying product load sizes add greater complexity as forklift operators require dual purpose attachments that will help to optimise their operations in order to meet seasonal demands.
The diverse product mix led by consumer demand is driving a shift towards healthier, organic alternatives, energy drinks, nutrient supplemented, calorie controlled, and aerated waters are all contributors of solid year on year growth.
Facts and Figures
The Beverage industry continues to see year on year growth due to the desire for a greater selection of non-alcoholic and organic alternatives that satisfy consumer demand.
$135.15 billion
Beverage market value in 2018
3.05%
Beverage market growth by 2023
$157.13 billion
Beverage market value by 2023
Challenges
TURN YOUR BIGGEST HEADACHES INTO OPPORTUNITIES
The consumer-driven dynamic is straining beverage applications – both in the facility and on the delivery route.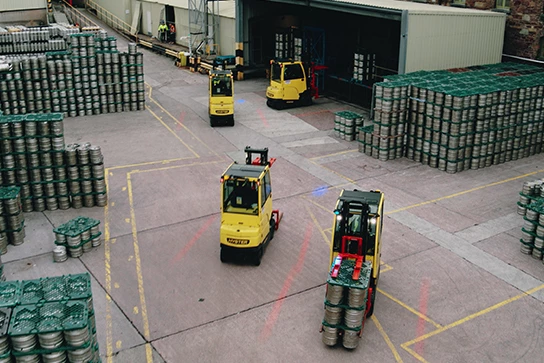 Sustainability goals are driving the change
Increased sustainability expectations that are driven by both customers and businesses alike who are seeking ways to support environmental efforts.
How can you take charge of the change?
A quieter and cleaner alternative to diesel and LPG solutions.
Support customers, businesses and suppliers whilst also supporting zero emission targets.
An electric solution that can meet the seasonal demands within a 24-hour operation
Increased usage of more capable electric trucks and alternative power solutions reduces environmental impact.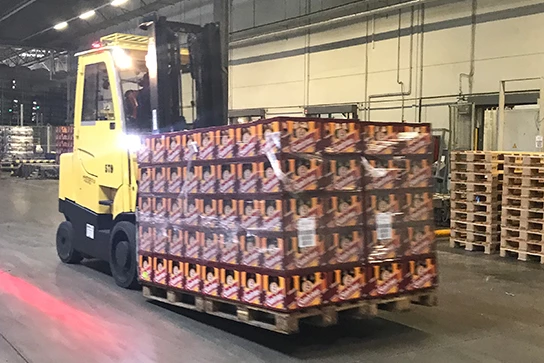 Driver visibility issues due to transporting tall loads at height.
Load sizes are increasing in size and being transported and stacked at height, visibility for the forklift truck driver can be greatly reduced when moving in and around an operation.
Hyster offers a raised operator cab solution on its full range of ICE & electric forklift trucks.
Hyster can provide a selection of raised operator specifications for standard and side battery extraction chassis.
Our 15° swivel seat enhances driver ergonomics and can help to reduce operator fatigue and increase productivity.
We can now include wide mast configurations, to offer greater visibility to the operator for our 6-8 tonne range.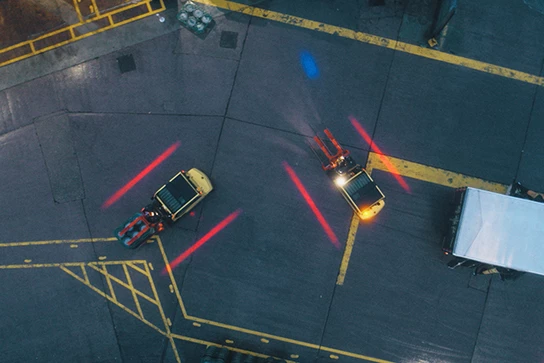 Improving awareness
Running safe operations is a top priority in all stages of the Beverage industry supply chain.
Advanced technology and systems can help mitigate incidents occurring.
Lighting systems mark the way.
Sensor systems assist the driver with spatial awareness.
Telematics systems record and report fork lift operator activity in real time.
Lighting systems may improve awareness of employees working nearby, pedestrians and visitor's on site. The telematics system can aid in providing best practice operations.
Solutions
TAKE ACTION WITH SOLUTIONS THAT WILL HELP YOU DOMINATE AND EXCEL
Exceed customer expectations with tough solutions that deliver.
Proven Approaches
DRIVE YOUR BUSINESS FORWARD WITH ADVANCED SERVICES AND SUPPORT
Innovations designed to help increase operational efficiency and achieve next level performance.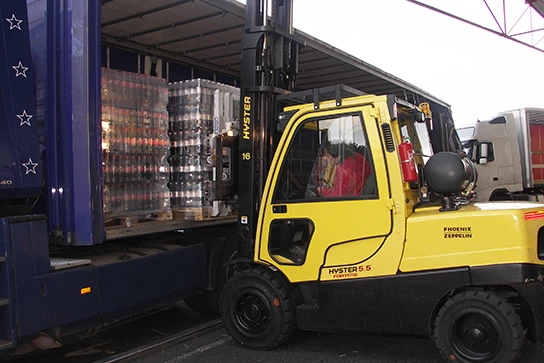 Optimised fleet utilisation
Coca-Cola Beverages has a main production facility and logistics centre in Prague with 8 other branches across the Czech Republic acting as distribution centres and providing interim storage.
Before talking to Hyster, the company had previously faced several materials handling challenges, for example:
The company purchased trucks from multiple suppliers resulting in a mixed fleet, uneven utilisation rates and increased operational costs across the 9 sites
High seasonal demand meant the fleet needed to expand at certain peak times.
There was always a difficulty in getting hold of the right number and right type of truck on short term contracts.
There were constant technical difficulties and rising service costs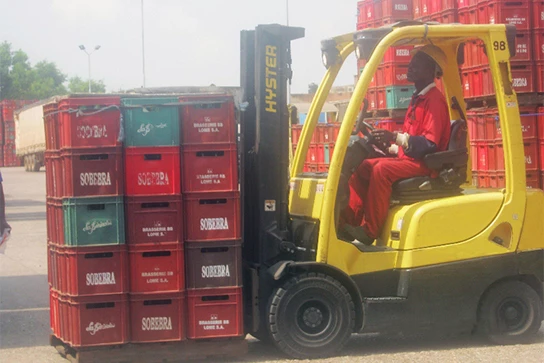 Reliable forklift trucks for effective operations
SOBEBRA produces bottled beers, soft drinks and water. Over 500 employees work on the three production sites situated in Cotonou, Parakou and Possotomé in Benin, West Africa and the operation is supported by more than 100 seasonal workers.
The company requires forklift trucks for the transportation of empty bottles around the bottling plant, full bottles to the store, or directly to the loading dock and also to load and unload trucks.
Value Adds
Services and support you can depend on
Hyster has tough trucks for your operation - plus the service and support to back them up.