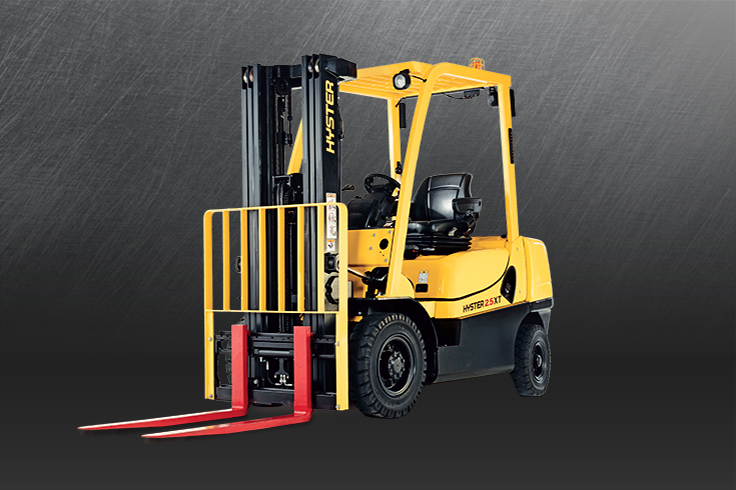 Internal combustion Forklift Pneumatic Tyre
MEDIUM-DUTY APPLICATIONS
Models

H2.0-3.0XT

Capacity

2000-3000kg
Expect low running costs, every day of the week from this tough and reliable truck.
Powerful and efficient
Superb ergonomics
Inteligent design
Simple maintenance
THE EVERYWHERE TRUCK
Businesses can depend on these diesel or LPG forklifts to give maximum uptime when lifting loads up to three tonnes.

This high quality, yet affordable truck series is reliable, productive, fuel-efficient and easy to service. With Hyster support in the aftermarket these trucks will give long life and lasting truck value.
Powerful and efficient
Robust and durable Yanmar 2.6L Diesel and PSI 2.4L LPG heavy duty industrial engines deliver power efficiently.
Class leading fuel efficiency
Built to last
Low running costs
Superb ergonomics
The XT Series is easy to drive, comfortable and offers precise, confident handling for improved productivity through every shift.
Excellent all-round and through-mast load visibility
Fully suspended seat
Well-placed controls
Low vibration and noise
Inteligent design
Packed with features to move more loads more quickly, including powerful tractive and hydraulics systems, and unique axle design with maintenance-free Hyster Stability Mechanism, the Hyster XT is designed for the job.
Integral side-shift option
Fast acceleration and travel speeds
Fast lifting and lowering speeds
Customise for specific site challenges
Simple maintenance
Straightforward servicing, with easy access and simplified layout of key components to keep downtime to a minimum.
500 hour service intervals
Parts readily available
Dealer service support
| Model | Load Capacity | Load Centre | Lift Height | Turning Radius | Overall Width | Weight | Engine | Transmission |
| --- | --- | --- | --- | --- | --- | --- | --- | --- |
| H2.5XT | 2500kg | 500mm | 6000mm | 2236mm | 1140mm | 4080kg | Yanmar 2.6L Diesel / PSI 2.4L LPG | Powershift 1-speed |
| H2.0XT | 2000kg | 500mm | 6000mm | 2178mm | 1140mm | 3750kg | Yanmar 2.6L Diesel / PSI 2.4L LPG | Powershift 1-speed |
| H3.0XT | 3000kg | 500mm | 5815mm | 2324mm | 1206mm | 4690kg | Yanmar 2.6L / 3.3L Diesel / PSI 2.4L LPG | Powershift 1-speed |
WIRELESS ASSET MANAGEMENT
HYSTER TRACKER
Hyster Tracker provides true wireless fleet management, can drive fleet efficiency, improves operator performance, reduces your carbon footprint and lowers your overall material handling costs.
Explore Hyster Tracker
The truck is only part of the solution
Hyster knows that a tough truck, is even better when it comes with a strong partner to meet your unique needs.