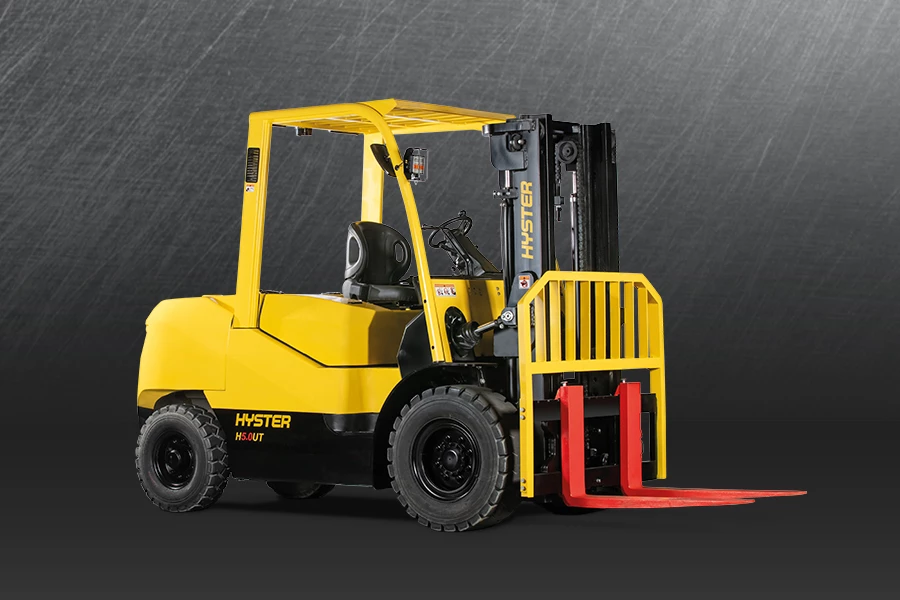 Meets the need Makes the move
Right truck. Right price. Right application.
Efficient and reliable
Operator-friendly
Low cost of ownership
Easy to maintain
EASY AND EFFICIENT, YOUR EVERYDAY FORKLIFT.
With lift heights up to 6.5m, lift capacities up to 5,000kg @500mm load centre, travel speeds up to 28km/h and easy manoeuvrability, control, and visibility, the UT series have been optimised to enable customers to enjoy the benefits of the toughness and robustness of Hyster trucks in lower hours applications cost effectively.
Efficient and reliable
The combination of Hyster expertise with robust components, efficient filtration and cooling helps contribute to reliable operations and minimises wear and tear.
A range of masts (LFL and FFL) with a wide mast window are available with tilt options, offering clear visibility of the load and the forks. The neatly routed hoses are centred on the free lift cylinder to eliminate hose twisting. Various carriages and forks are available, including integrated side shift carriages to make load handling easy and convenient.
Operator-friendly
The operator cab provides a practical and comfortable working environment. The controls are within easy reach and are simple to operate; various ergonomics features, including the adjustable full suspension seat, are available to enhance operator comfort.
The clear 3.5-inch LCD display provides to the operator valuable truck information at a glance. An optional rear drive handle with an integrated horn makes reverse driving easier.
Low cost of ownership
Wear and tear on the truck is reduced by sealed tilt cylinders to minimise any contamination, and by the welding of the one-piece frame with many cast components, including the drive axle housing.
This, together with the fast availability of cost-effective replacement parts, helps to reduce service, maintenance requirements and costs.
Simple to maintain
The H4.0-5.0UT truck range is easy to maintain as no special tools are required for diagnostics and servicing. Regular service items are easily accessible and replacement parts are readily available and cost effective. The easily removable floor plate and quick release hood (opens 80 degrees) provides easy access.
The truck is only part of the solution
Hyster knows that a tough truck, is even better when it comes with a strong partner to meet your unique needs.