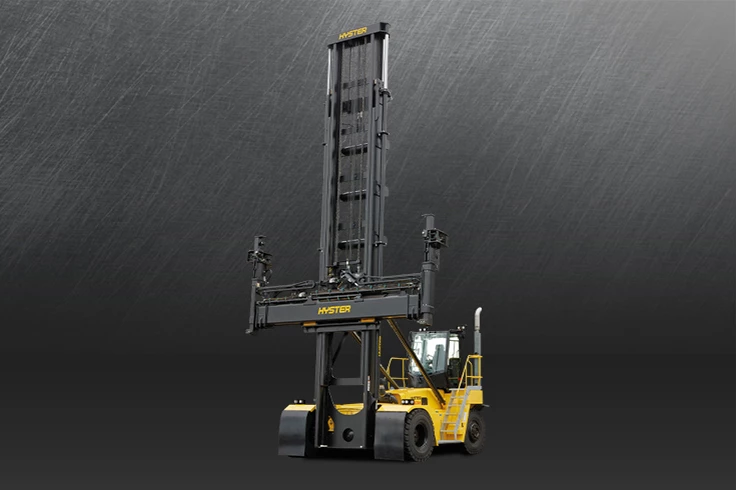 6/9 High Empty Container Handler
RELIABLE AND FAST CONTAINER HANDLING
Designed for use in the ever growing, fast paced container industry, where every yard must bring down the cost per box moved to stay competitive.

Single and double handling spreaders
Heavy-duty productivity
Serviceability
Optimised powertrain
Ergonomic cab
Introducing the XD series cab for Hyster Big Trucks
Reimagined design that maximises operator comfort and uptime.
Climb Inside
Single and double handling spreaders
A comprehensive selection of single and double handling spreaders are available, featuring vertical twistlocks or hook & side clamps, to suit your specific application. These spreaders allow
operations to handle most common types of containers.
SINGLE AND DOUBLE HANDLING SPREADERS
Hyster empty container handling solutions can help port operations reap time and cost savings by handling two empty containers simultaneously. The double-handling capability of the H9-11XD container handler provides particularly powerful advantages as organisations scale to handle growing demand while maintaining targets for efficiency and cost.
Heavy duty productivity
Hyster H8-11XD-EC/D empty container handling trucks deliver high productivity with 4-mode average lifting speeds of 0.54 m/s, competitive in the industry.
For optimal performance and durability, the variable lap mast features:
significantly lower load roller forces
less mast deflection
higher torsional rigidity
heavy duty 2 chain system with large diameter sheaves
This design enhances structural strength, contributing to lower costs and reducing downtime.
Serviceability
Hyster trucks have been designed with the service technician in mind. Easy access to the engine, hydraulics and other major components are enabled with a large hinged hood and lift off front covers. The tip back cabin provides ample service access to components located under the cabin.
Broad, slip resistant running boards
Optional utility toolbox and storage compartment
The hydraulic oil tank features a sight glass and magnetic drain plugs for ease of maintenance
Clean hydraulic hose and electrical harness routing and clamping
Optimised power train
With the H8XD-EC6 - H11XDECD9 range you will move more empty containers in less time. You will also have the benefit of longer service life of components, and less downtime due to unplanned repair requirements.
Innovative selectable ECO performance modes, plus the 5-speed transmission and variable displacement pumps, offer excellent fuel economy.
On-demand hydraulics, on-demand cooling and selectable performance modes contribute to fuel savings, extended component life and reduced noise levels.
Ergonomic cab
The ergonomically design high visibility cab puts greater productivity within easy reach. Equipped with an armoured glass top window, curved front and rear windows and steel doors with tempered glass, the new operator cab provides excellent all-around visibility.

Inside the cab there is more space with the largest entry area in the industry, more control with a full-colour screen displaying performance data at the operator's fingertips and more comfort with an exclusive lateral sliding seat, adjustable steering column and foot pedal, plus ergonomic controls.
| Model | Load Capacity | Load Centre | Lift Height | Turning Radius | Overall Width | Weight | Engine | Transmission |
| --- | --- | --- | --- | --- | --- | --- | --- | --- |
| H8XD-EC6 | 8000kg | 1220mm | 16168mm | 6327mm | 4110mm | 35508kg | MTU 7.7L Diesel | ZF - 5WG211 |
| H8XD-EC7 | 8000kg | 1220mm | 18768mm | 6327mm | 4110mm | 36862kg | MTU 7.7L Diesel | ZF - 5WG211 |
| H10XD-ECD8 | 9000kg | 1220mm | 18768mm | 6327mm | 4110mm | 38848kg | MTU 7.7L Diesel | ZF - 5WG211 |
| H9XD-ECD8 | 9000kg | 1220mm | 21368mm | 6327mm | 4335mm | 41437kg | MTU 7.7L Diesel | ZF - 5WG211 |
| H11XD-ECD8 | 9000kg | 1220mm | 16322mm | 6327mm | 4110mm | 39468kg | MTU 7.7L Diesel | ZF - 5WG211 |
| H9XD-EC8 | 9000kg | 1220mm | 18922mm | 6327mm | 4110mm | 40853kg | MTU 7.7L Diesel | ZF - 5WG211 |
| H11XD-ECD9 | 10000kg | 1220mm | 18922mm | 6327mm | 4335mm | 41886kg | MTU 7.7L Diesel | ZF - 5WG211 |
| H9XD-EC7 | 11000kg | 1220mm | 18922mm | 6327mm | 4335mm | 42847kg | MTU 7.7L Diesel | ZF - 5WG211 |
| H9XD-ECD7 | 11000kg | 1220mm | 21522mm | 6327mm | 4335mm | 44198kg | MTU 7.7L Diesel | ZF - 5WG211 |
Quality processes manufacturing
See how our high capacity forklift trucks, Empty Container Handlers, ReachStackers and Top Picks are built in our factory in Nijmegen, the Netherlands.
Watch Video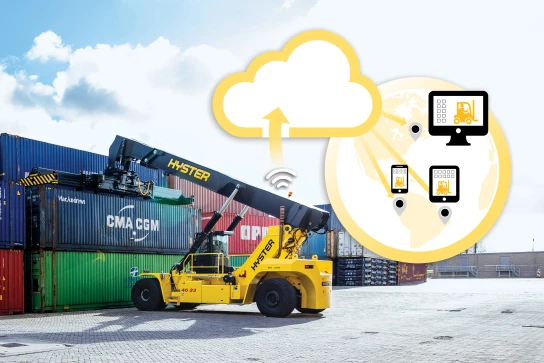 MANAGE YOUR BIG ASSETS
LEVEL 1 TELEMETRY STANDARD ON BIG TRUCKS
Help promote safety & operator confidence, regulatory compliance, and improve operational transparency. Our cloud-based wireless monitoring provides actionable insights giving you a thorough look into your fleet's day-to-day operations so your team can work smarter.
Explore Hyster Tracker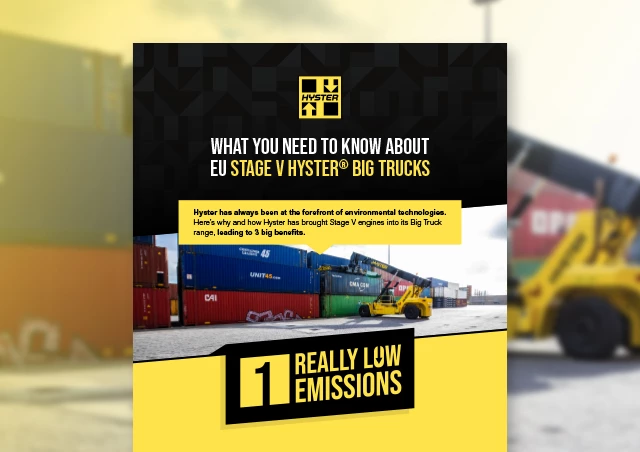 Stage V Engines for Big Trucks
WHAT YOU NEED TO KNOW ABOUT EU STAGE V HYSTER® BIG TRUCKS
Hyster has always been at the forefront of environmental technologies. Here's why and how Hyster has brought Stage V engines into its Big Truck range.
View infographic
Frequently asked questions
HVO: a step towards zero-emissions
Did you know Hyster Big trucks trucks and specified engines in the 2-3.5t range are able to run on HVO100 according EN15940? HVO is a cleaner fuel that offers up to 90% reduction in CO2 emissions. Helping the transition towards zero-emissions with internal combustion engines (ICE) that offer exceptional durability and consistent power delivery even in the most extreme environments.
Find out more
The truck is only part of the solution
Hyster knows that a tough truck, is even better when it comes with a strong partner to meet your unique needs.