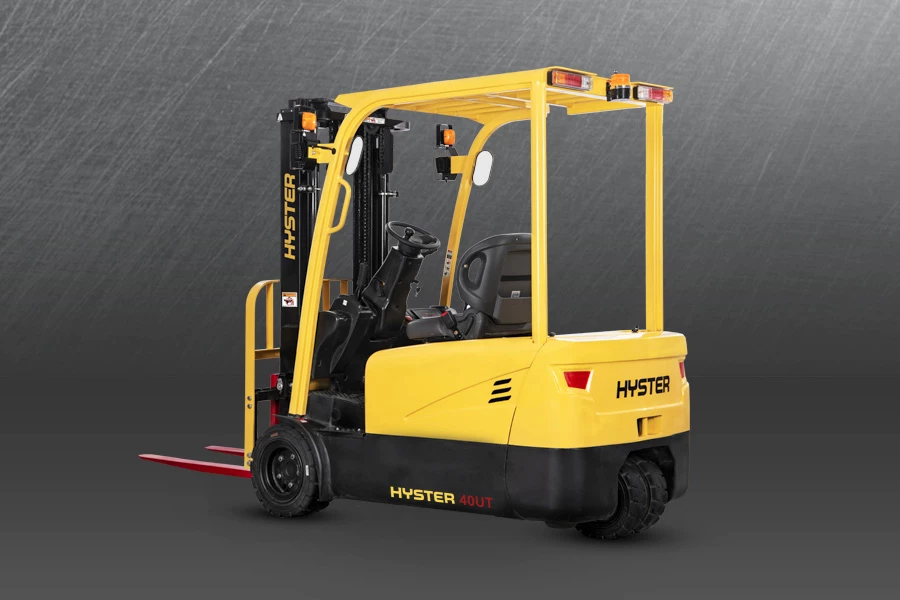 Electric counterbalance forklift
POWERHOUSE 3-WHEEL ELECTRIC FORKLIFT
Models

J32-40UTT

Capacity

3200-4000lbs
The cost-effective 4-wheel J30-70UT forklift is configured for multiple power sources to offer electric power flexibility for lower-hour applications.
Comfortable Operation
Powerful and Flexible
Low Cost of Ownership
Robust Components
COMFORTABLE, POWERFUL, AND LOW TCO CLASS 1 FORKLIFT
Comfortable Operation
Features a low entrance step, wide-view mast and large uncluttered floor space. Hydraulic power steering, adjustable steering column and a full suspension seat with lumbar support offers added comfort.
Powerful and Flexible
Configured for multiple power sources: Lead Acid and Thin Plate Pure Lead (TPPL)
On-demand hydraulic power steering, with twin drive motor system
Multiple performance modes selectable via dash display
AC traction and lifting motors, with electronic control
Low Cost of Ownership
Maintenance free oil-immersed brakes and regenerative braking system
AC traction and hydraulic motors help reduce maintenance costs
Easy service access to the controllers and drivetrain helps minimize service time
Robust Components
The use of high quality and robust components within the UT series deliver a reliable operation with limited wear and tear. Maintenance costs and requirements are further reduced by simple, readily available, genuine and cost effective replacement parts.
| Model | Load Capacity | Load Center | Lift Height | Turning Radius | Battery Capacity Voltage | Weight |
| --- | --- | --- | --- | --- | --- | --- |
| J32UTT | 3200lbs | 24in | 120.9 | 63.0 | Lead acid or thin plate pure lead | 6880 |
| J35UTT | 3500lbs | 24in | 120.9 | 63.0 | Lead acid or thin plate pure lead | 7035 |
| J40UTT | 4000lbs | 24in | 121.4 | 67.5 | Lead acid or thin plate pure lead | 7455 |
Support throughout the lift truck life cycle
Knowledgeable, reliable dealers make all the difference
When it comes to collaborating with a lift truck dealer, you can't settle – you need dealers wholly focused on your success. When you purchase equipment or technology solutions from Yale Lift Truck Technologies, you gain access to our independent dealer network. "Independent" means our dealers are not constrained by factory ownership or corporate red tape.
Our dealers are entirely focused on fulfilling your needs
A seamless experience, from order to factory to ongoing support
Effective recommendations and responsive support, from parts, maintenance and
emergency services to fleet management, rental trucks and operator training.
Expertise and guidance on special features and allied products and services for your
warehouse, like racking, guarding and safety equipment.
Assistance with financing options.

The GSA creates a centralized location for the federal government, offering products, services, and facilities needed for federal agencies to serve the public. As a GSA certified company, Hyster supports the GSA's mission to provide innovative solutions for federal agencies with cost-effective and high-quality products. You can also find more information on the General Services Administration at www.gsaadvantage.gov
The forklift is only part of the solution
Hyster knows that a tough lift truck is even better when it comes with a strong partner to meet your unique needs.