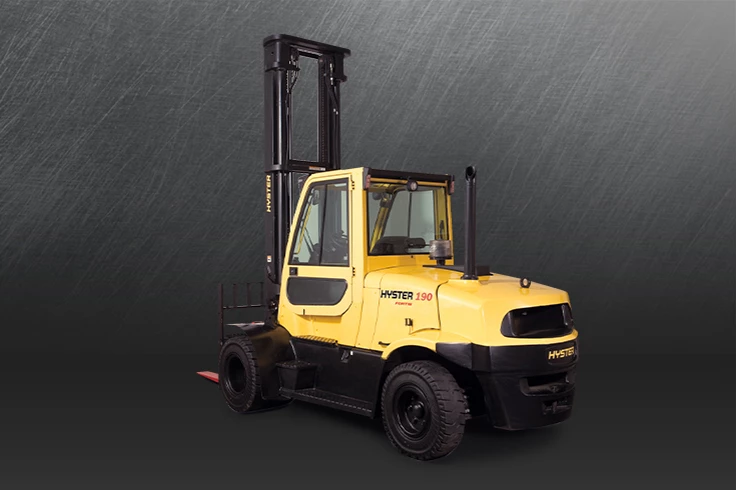 Internal Combustion Forklift Pneumatic Tire
DURABLE AND DEPENDABLE
Models

H170-190FT

Capacity

17000-19000lbs
Compact strength and proven performance for applications where size matters.
Auto Deceleration System (ADS)
Controlled rollback on ramp
Throttle response management
Hassle-free hydraulic systems
Operator-friendly design
outstanding reliability and low cost of operation
Auto Deceleration System (ADS)
The heavy duty industrial use engine comes with a cast iron cylinder block and no HT (high tension) wires, distributor caps or rotors.
Performance optimization developments are included such as cooling on demand, load sensing hydraulics (power on demand), RPM management and alternate engine idle speed to help further reduce the total fuel consumption in most applications.
ECO-eLo performance mode reduces energy consumption by up to 15% compared with previous generation engines.
Controlled rollback on ramp
The transmission controls the rate of decent on a ramp when the brake and throttle pedal are released. This provides maximum control on a grade and increases operator productivity.
THROTTLE RESPONSE MANAGEMENT
This feature allows the operator to manage their travel speed, according to the position of their foot on the accelerator pedal.
Hassle-free hydraulic systems
Hydraulic systems such as the leak-free O-ring face seal fittings reduce leaks for enhanced reliability. Non-mechanical, Hall-Effect sensors and switches have also been fitted which are designed to outlast the life of the truck.
Operator-friendly design
Operator space is optimized, thanks to the modern overhead guard design and significantly expanded floor space. The truck also has an easy to use three-point entry design with a low step height.
| Model | Load Capacity | Load Center | Lift Height | Turning Radius | Overall Width | Weight | Engine Type | Transmission |
| --- | --- | --- | --- | --- | --- | --- | --- | --- |
| H170FT | 17000lbs | 24in | 258 | 149 | 88 | 24824 | Kubota 3.8L Diesel | DuraMatch™ 3, 3-speed |
| H175FT | 17500lbs | 36in | 258 | 149 | 88 | 26782 | Kubota 3.8L Diesel | DuraMatch™ 3, 3-speed |
| H170FTS | 17000lbs | 24in | 258 | 149 | 88 | 24824 | Kubota 3.8L Diesel | DuraMatch™ 3, 3-speed |
| H190FT | 19000lbs | 24in | 258 | 149 | 88 | 25857 | Kubota 3.8L Diesel | DuraMatch™ 3, 3-speed |
Our dealers are our most important partners in helping you
We would not be where we are today without one of the most professional dealer networks in the industry. We work hard to design and manufacture the best lift trucks, but it is our stellar dealers that bring it all together for you.
Dealers help at every step of the process
Understanding your specific lift truck applications
Recommending special features to improve your productivity
Configuring the proper quotation
Helping with financing options when required
Prepping your truck for delivery after it leaves our factory
Arranging for operator training
Providing planned maintenance on your trucks
Supporting National Accounts management
Providing fleet management services, if needed
Providing emergency service and parts
Providing rental trucks at short notice
Helping determine exactly when to purchase new lift trucks

The GSA creates a centralized location for the federal government, offering products, services, and facilities needed for federal agencies to serve the public. As a GSA certified company, Hyster supports the GSA's mission to provide innovative solutions for federal agencies with cost-effective and high-quality products. You can also find more information on the General Services Administration at www.gsaadvantage.gov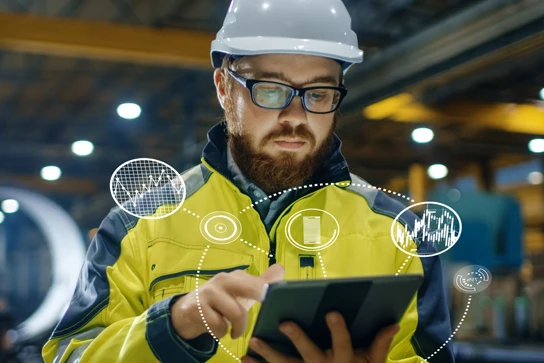 WIRELESS ASSET MANAGEMENT
HYSTER TRACKER
Hyster Tracker provides true wireless fleet management, can drive fleet efficiency, improves operator performance, reduces your carbon footprint and lowers your overall material handling costs.
Explore Hyster Tracker
The forklift is only part of the solution
Hyster knows that a tough lift truck is even better when it comes with a strong partner to meet your unique needs.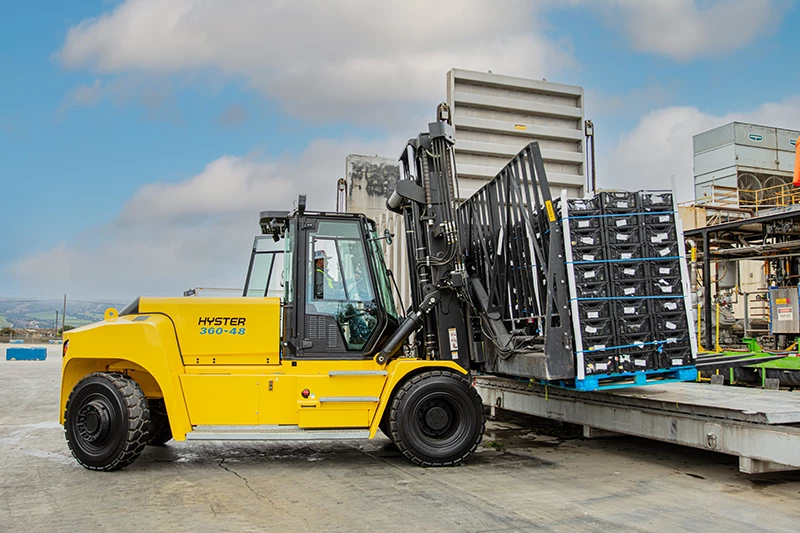 ELECTRIC LIFT TRUCKS
CLEAN POWER THAT MEANS BUSINESS
Are you ready to transition from ICE to electric? Hyster® electric lift trucks power your possibilities by reducing emissions, fuel consumption and maintenance costs while boosting performance and efficiency.
Learn More