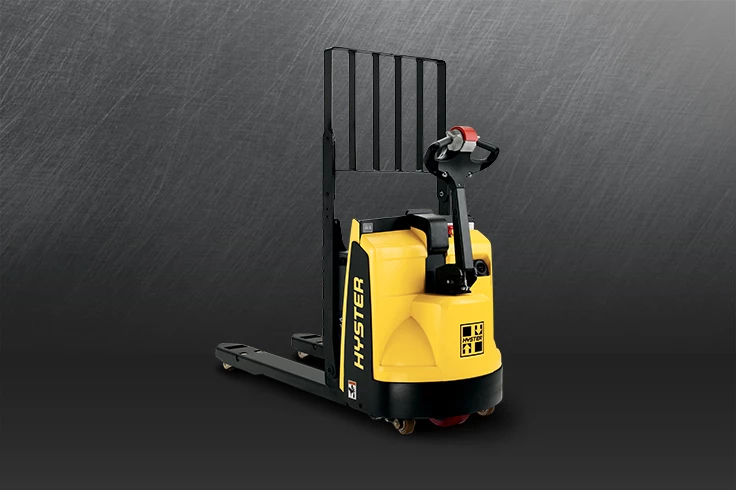 Walkie Low Lift Pallet Truck
STRONG AND INTELLIGENT
Models

W45ZHD

Capacity

4500lbs
Designed to be tough, the walkie pallet truck series is also intelligent. Its exceptional maneuverability, ergonomics and performance stems from innovative design and engineering. With a vast array of option combinations and standard features, the W45ZHD2 ensures that operators are moving loads as safely, quickly and efficiently as possible at every stage of pallet handling.
Strength and durability
Low cost of operation
Built for comfort
Enhanced productivity
Beverage delivery options
Hyster W45ZHD2 Direct Store Delivery Pallet Truck
Hyster has developed the Direct Store Delivery (DSD) package for the W45ZHD2 pallet truck. Powered by lithium-ion technology, it is one of the most advanced and efficient tools for DSD Operation.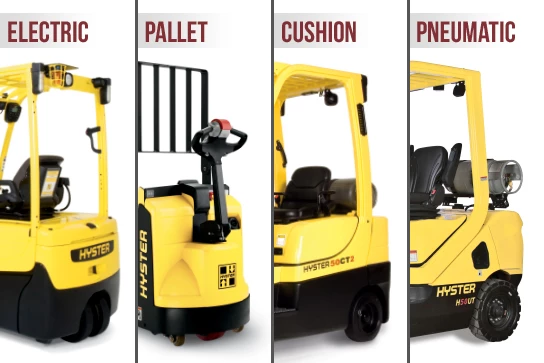 NEED THIS TRUCK NOW?
IN STOCK AND READY TO ROCK
This model and others are available for immediate purchase at select Hyster dealer locations. We stocked our dealers with our most popular lift truck models so you can add to your fleet without delay.
EXPLORE AVAILABLE MODELS
STRENGTH AND DURABILITY
The W45ZHD2 combines a heavy duty steel drive frame with a highly engineered drive unit casting, making this one of the heaviest drive unit frames in the industry. Optimally placed as the backbone of the truck, the two create the strongest drive end in its category. The heavy duty casting replaces fabricated components for increased strength and durability, and concentrates all of the forces of the truck to an intelligent, highly engineered component.
Low cost of operation
The W45ZHD2 walkie is designed with durable and easily serviceable components to help save you money.
Heavy-duty torsion bar provides a more uniform loading of pins and linkage rods, reducing wear and tear.
Thickest bronze bushings available provide the most contact area, resulting in improved distribution of force and increased service life.
Steel drive frame enhances stability and durability, decreasing service costs and damage to loads.
Optional casters are reinforced with heavy-duty casting. Coil springs have been replaced with poly block, reducing cost and service requirements.
Large, maintenance-free turntable steer bearings distribute and handle driving and steering forces better than small taper bearings, lowering cost of ownership.
AC traction motor is maintenance-free and external speed sensor is easy to access, reducing cost of maintenance.
Built for comfort
Our intelligently designed ergonomics make the W45ZHD2 walkie pallet truck easier and more comfortable to operate from the mid-mounted, shortened handle to the vertically mounted drive motor assembly.
Tiller has a light hold down effort. Little exertion is needed by the operator to move the handle to the run zone and easily maintain its position there.
Mid-mounted control handle placement has been designed to balance the constraints of steer effort, visibility and maneuverability.
Large turntable bearing and standard rubber tire reduce the force required to turn the steer tire. The less energy the operator must use to steer the truck, the more efficiently the pallet will be moved.
Enhanced productivity
Hyster Intelligent Lift™ enables the operator to start transporting the pallet before the unit is at full lift. The W45ZHD2 equipped with this option will automatically lift the pallet to maximum fork height without having to continually hold the lift button. As a result of the simultaneous action of lifting and traveling, cycle times are reduced by up to 25%.
Turtle Function – When the handle is in the run zone, and the turtle functionality is selected, the W45ZHD2 latches into turtle mode, giving the operator greater confidence in congested applications. When the handle is in the upper brake zone, the operator can press and hold the turtle button to maneuver the truck. This minimizes the truck profile, improving maneuverability.
BEVERAGE DELIVERY OPTION
Hyster understands the daily challenges that delivery drivers face trying to get product from the trailer to the store. It is with this in mind, that we developed the Direct Store Delivery (DSD) package for the W45ZHD2.
The industry exclusive, patented design of the DSD handle allows the operator full command of the truck's functionality with the handle in the full upright position. One hand throttle activation means the operator can stay safely positioned beside the truck with complete visibility of the end of the lift gate.
A moveable load backrest allows operators to handle loads and pallets of multiple shapes and sizes, while the load retention strap keeps those loads secure.
| Model | Load Capacity | Lift Height | Battery Capacity Voltage | Weight |
| --- | --- | --- | --- | --- |
| W45ZHD | 4500lbs | 8.4 | 24V / 208-224Ah | Li-ion 24V / 56-168Ah | 624 |
Support throughout the lift truck life cycle
Knowledgeable, reliable dealers make all the difference
When it comes to collaborating with a lift truck dealer, you can't settle – you need dealers wholly focused on your success. When you purchase equipment or technology solutions from Yale Lift Truck Technologies, you gain access to our independent dealer network. "Independent" means our dealers are not constrained by factory ownership or corporate red tape.
Our dealers are entirely focused on fulfilling your needs
A seamless experience, from order to factory to ongoing support
Effective recommendations and responsive support, from parts, maintenance and
emergency services to fleet management, rental trucks and operator training.
Expertise and guidance on special features and allied products and services for your
warehouse, like racking, guarding and safety equipment.
Assistance with financing options.

The GSA creates a centralized location for the federal government, offering products, services, and facilities needed for federal agencies to serve the public. As a GSA certified company, Hyster supports the GSA's mission to provide innovative solutions for federal agencies with cost-effective and high-quality products. You can also find more information on the General Services Administration at www.gsaadvantage.gov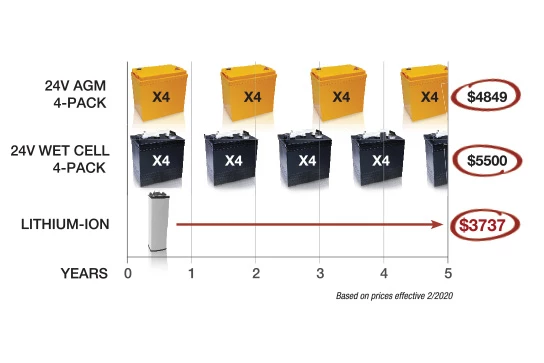 SAVE MORE THAN 80% ON BATTERY COSTS
When it comes to total cost of ownership, it's hard to beat lithium-ion technology. In a 5-year period, you can replace about four lead acid battery packs and maintain them regularly, or install a maintenance-free lithium-ion battery pack and save more than 80% on lift truck battery costs. Who wouldn't want to install just one 'no maintenance' battery instead of five batteries requiring maintenance? And when your employees aren't worrying about batteries, they're free to take care of business.
The Hyster® APPS Powered Pallet Truck
The Hyster APPS-powered W45ZHD2 harnesses the benefits of lithium-ion technology to optimize efficiency, maneuverability and productivity.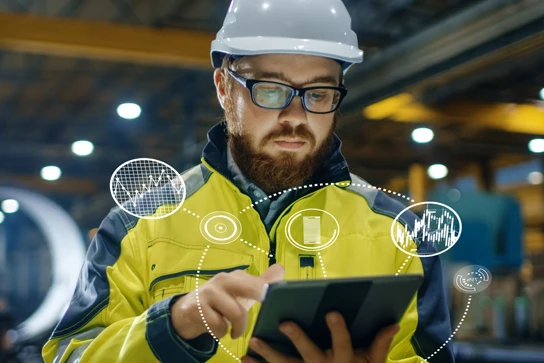 WIRELESS ASSET MANAGEMENT
HYSTER TRACKER
Hyster Tracker provides true wireless fleet management, can drive fleet efficiency, improves operator performance, reduces your carbon footprint and lowers your overall material handling costs.
Explore Hyster Tracker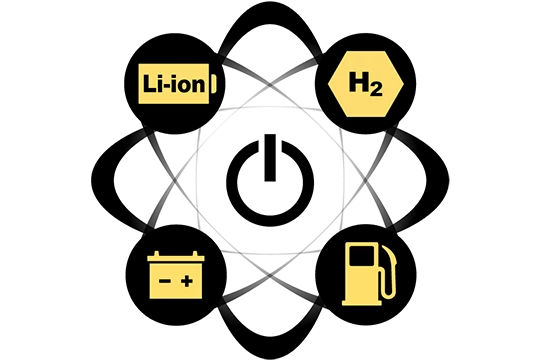 POWER YOUR POSSIBILITIES
HYSTER POWER MATCH
Not all power is the same. Learn how a better-matched power source could make a difference in your operations.
Pinpoint your power
The forklift is only part of the solution
Hyster knows that a tough lift truck is even better when it comes with a strong partner to meet your unique needs.