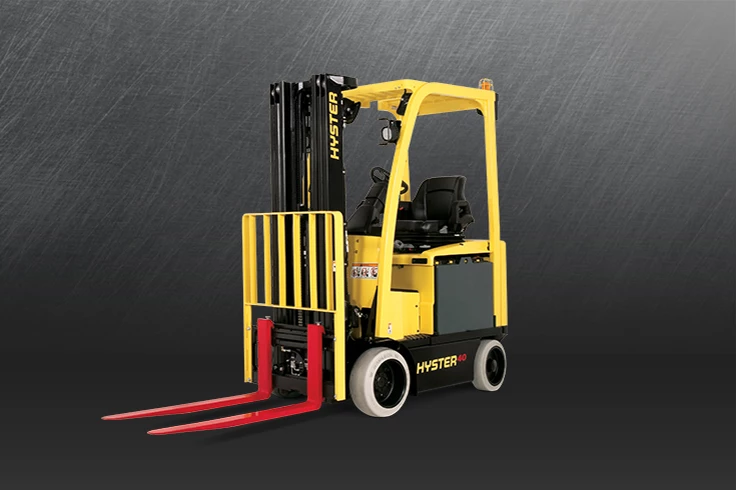 4 Wheel Electric Forklift Truck Cushion Tire
THERE'S NO QUIT IN AN ELECTRIC HYSTER FORKLIFT
Models

E30-40XN

Capacity

3000-4000lbs
The highly durable and ultra reliable Hyster E30-40XN series offers numerous advantages in quality and ergonomics, making it one of the most operator-friendly AC-powered lift trucks in the world. Setting the standard in electric lift trucks, it lowers overall operating costs and maximizes productivity. This is the workhorse you can count on day in and day out to get the job done.
Superior serviceability
Ergonomic design
Low energy consumption
Dependability
Performance modes
AC-POWERED FORKLIFT. OPERATOR-FRIENDLY.
SUPERIOR SERVICEABILITY
The E30-40XN series utilizes CANbus communications to simplify wiring and improve serviceability.
State-of-the-art on-board diagnostics reduce repair time and minimize expensive part-swapping.
A two-piece floor plate and side plates can be easily removed for unrestricted service access. The lift-out floor plate requires no tools for quick and easy daily operator checks.
Easy battery access is provided via the gas spring-assisted hood and quick release handle. The rear counterweight service cover is easily removed by loosening two screws.
ERGONOMIC DESIGN
The ergonomic design of the E30-40XN series means greater comfort for your operator. Enhanced ergonomics combined with customizable performance characteristics increase overall productivity and uptime.
The easy-to-use 3-point entry design of the operator compartment uses a large molded hand grip, hip restraint and an open non-slip lowered step height to minimize muscle and joint strain during entry and exit.
Six different seat options and adjustable features allow customization for a superior level of comfort. The optional full-suspension seat offers easy fore/aft adjustment and an adjustable seat back angle for the highest level of comfort.
The standard 12-inch steering wheel with integrated spinner knob reduces fatigue while providing more knee room and goes lock-to-lock in just four turns for superior efficiency, maneuverability and control.
An infinitely adjustable tilt steer column provides increased comfort while minimizing fatigue.
The armrest is cushioned and contoured to provide full forearm support. The hydraulic functions, seatside directional control switch, horn and battery disconnect button are all incorporated in the armrest and designed to maximize operator comfort and ease of use.
LOW ENERGY CONSUMPTION
According to the VDI Energy Cycle Standardized Test, the E30-40XN series provides the lowest energy consumption among competitors. Better energy utilization saves money and reduces impact on the environment.
DEPENDABILITY
The unitized design and welded steel construction of the frame provide better rigidity and excellent protection for the internal components.
The cast ductile iron steer axle with transverse, double-acting hydraulic cylinder, tapered roller spindle-support bearings and non-adjustable tie rods provide maximum durability with superior steering control and load handling.
Double-sealed electrical connectors provide a dust proof and waterproof connection to prevent contamination-related failures.
Leak-free O-ring face seal fittings reduce leaks for enhanced reliability.
All vehicle systems are managed electronically to optimize performance, significantly increase overall reliability, and enhance diagnostic capabilities for maximum uptime.
PERFORMANCE MODES
An adjustment of customizable performance parameters to match your application needs is accessible via the multifunction display and technician password protection. A significant increase in loaded travel speeds and acceleration rates beyond the standard setting is possible when the Extended Shift setting is turned off. Our standard Extended Shift AC controller setting provides the optimum balance between performance needs and battery shift life.
| Model | Load Capacity | Load Center | Lift Height | Turning Radius | Battery Capacity Voltage | Weight |
| --- | --- | --- | --- | --- | --- | --- |
| E30XN | 3000lbs | 24in | 216 | 64.7 | 36V / 1200Ah - 48V / 1000Ah | 5130 |
| E35XN | 3500lbs | 24in | 216 | 65.2 | 36V / 1200Ah - 48V / 1000Ah | 5390 |
| E40XN | 4000lbs | 24in | 216 | 66.6 | 36V / 1200Ah - 48V / 1000Ah | 5770 |
Support throughout the lift truck life cycle
Knowledgeable, reliable dealers make all the difference
When it comes to collaborating with a lift truck dealer, you can't settle – you need dealers wholly focused on your success. When you purchase equipment or technology solutions from Yale Lift Truck Technologies, you gain access to our independent dealer network. "Independent" means our dealers are not constrained by factory ownership or corporate red tape.
Our dealers are entirely focused on fulfilling your needs
A seamless experience, from order to factory to ongoing support
Effective recommendations and responsive support, from parts, maintenance and
emergency services to fleet management, rental trucks and operator training.
Expertise and guidance on special features and allied products and services for your
warehouse, like racking, guarding and safety equipment.
Assistance with financing options.

The GSA creates a centralized location for the federal government, offering products, services, and facilities needed for federal agencies to serve the public. As a GSA certified company, Hyster supports the GSA's mission to provide innovative solutions for federal agencies with cost-effective and high-quality products. You can also find more information on the General Services Administration at www.gsaadvantage.gov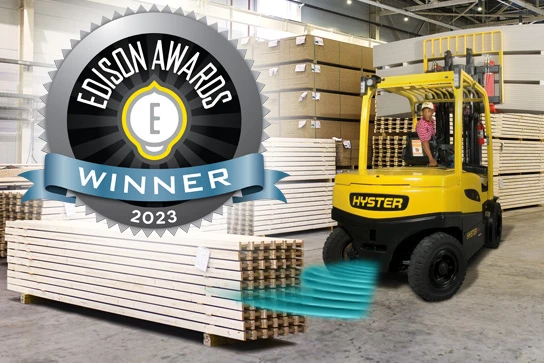 Hyster Reaction
Forklift technology: Operator Assist System
Hyster Reaction received the prestigious Edison Award for new product design and innovation. The first-of-its-kind technology controls lift truck performance based on real-time equipment status, location and operating conditions.
Discover Hyster Reaction™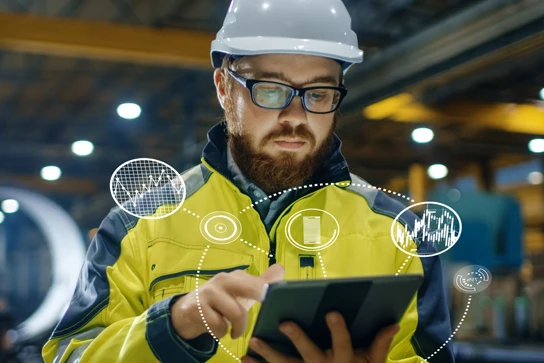 WIRELESS ASSET MANAGEMENT
HYSTER TRACKER
Hyster Tracker provides true wireless fleet management, can drive fleet efficiency, improves operator performance, reduces your carbon footprint and lowers your overall material handling costs.
Explore Hyster Tracker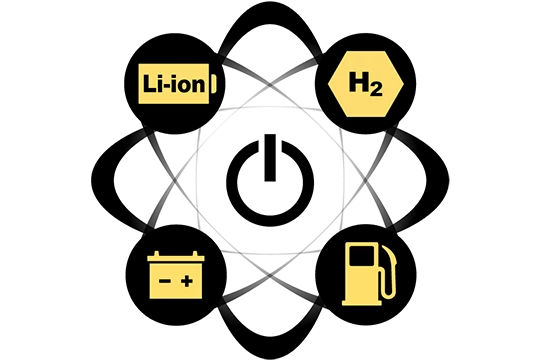 POWER YOUR POSSIBILITIES
HYSTER POWER MATCH
Not all power is the same. Learn how a better-matched power source could make a difference in your operations.
Pinpoint your power
The forklift is only part of the solution
Hyster knows that a tough lift truck is even better when it comes with a strong partner to meet your unique needs.