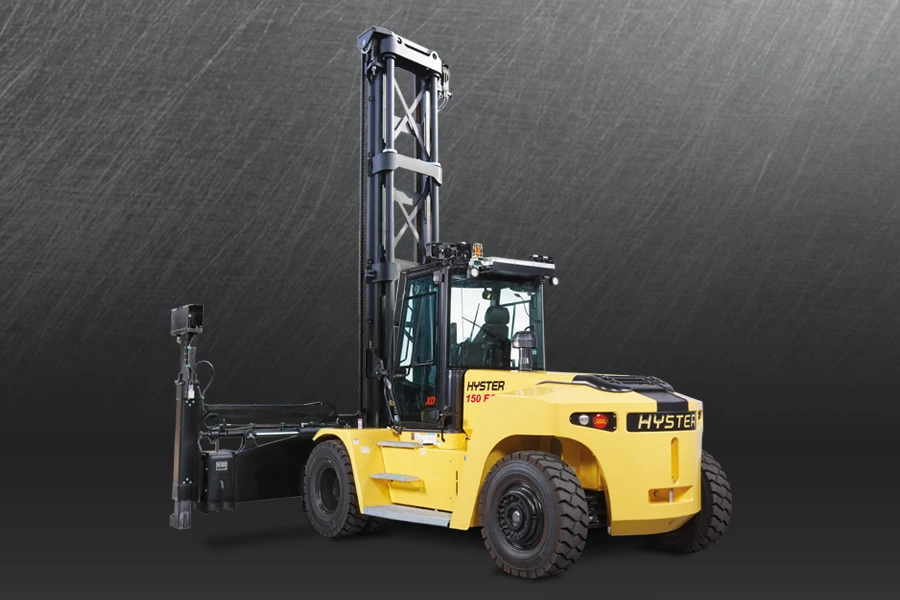 DEPENDABLE EMPTY CONTAINER HANDLER
Models

H150XD-EC4

Capacity

15100lbs
Optimizing costs in empty container handling operations
Robust, heavy-duty design
Ergonomic cab
Performance
Simplified service
The XD series cab for Hyster Container Handlers
Reimagined design that maximizes operator comfort and uptime. Available now on XD laden and empty container lift trucks.
Climb In
AGILE SOLUTION FOR EMPTY CONTAINER HANDLING
Robust, heavy-duty design
The robust frame and wide drive axle provide rock solid stability and long-term durability when handling empty containers at full height. The truck is also equipped with a heavy-duty mast and side lift spreader with movable vertical twistlocks for the handling of single empty ISO containers.
Ergonomic Cab
The ergonomically designed high visibility cab puts greater productivity within easy reach. Equipped with an armored glass top window, curved front and rear windows and steel doors with tempered glass, the operator cab provides excellent all-around visibility. Inside the cab there is more space with the largest entry area in the industry, more control with a full-color screen displaying performance data at the operator's fingertips and more comfort with an exclusive lateral sliding seat, adjustable steering column and foot pedal, plus ergonomic controls.
Performance
Performance optimization developments include on-demand cooling, load sensing hydraulics, RPM management and alternate engine idle speed to help reduce the total fuel consumption in most applications.
Simplified Service
Unobstructed access to the engine compartment and conveniently located checkpoints enables rapid and efficient maintenance. All major components are readily accessible for servicing, resulting in shorter downtimes and increased productivity.
| Model | Load Capacity | Load Center | Lift Height | Turning Radius | Overall Width | Weight | Engine Type | Transmission |
| --- | --- | --- | --- | --- | --- | --- | --- | --- |
| H150XD-EC4 | 15100lbs | 48in | 390 | 180 | 126 | 55590 | Cummins QSB 6.7L Diesel | ZF WG161 |
Support throughout the lift truck life cycle
Knowledgeable, reliable dealers make all the difference
When it comes to collaborating with a lift truck dealer, you can't settle – you need dealers wholly focused on your success. When you purchase equipment or technology solutions from Yale Lift Truck Technologies, you gain access to our independent dealer network. "Independent" means our dealers are not constrained by factory ownership or corporate red tape.
Our dealers are entirely focused on fulfilling your needs
A seamless experience, from order to factory to ongoing support
Effective recommendations and responsive support, from parts, maintenance and
emergency services to fleet management, rental trucks and operator training.
Expertise and guidance on special features and allied products and services for your
warehouse, like racking, guarding and safety equipment.
Assistance with financing options.

The GSA creates a centralized location for the federal government, offering products, services, and facilities needed for federal agencies to serve the public. As a GSA certified company, Hyster supports the GSA's mission to provide innovative solutions for federal agencies with cost-effective and high-quality products. You can also find more information on the General Services Administration at www.gsaadvantage.gov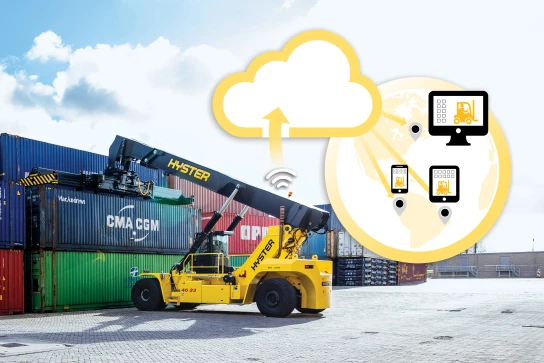 MANAGE YOUR BIG ASSETS
LEVEL 1 TELEMETRY STANDARD ON BIG TRUCKS
Help promote safety & operator confidence, regulatory compliance, and improve operational transparency. Our cloud-based wireless monitoring provides actionable insights giving you a thorough look into your fleet's day-to-day operations so your team can work smarter. And it's standard on Hyster high capacity ICE forklifts and container handlers and reach stackers.
Explore Hyster Tracker
Quality processes manufacturing
See how our high capacity forklift trucks, Empty Container Handlers, ReachStackers and Top Picks are built in our factory in Nijmegen, the Netherlands.
The forklift is only part of the solution
Hyster knows that a tough lift truck is even better when it comes with a strong partner to meet your unique needs.