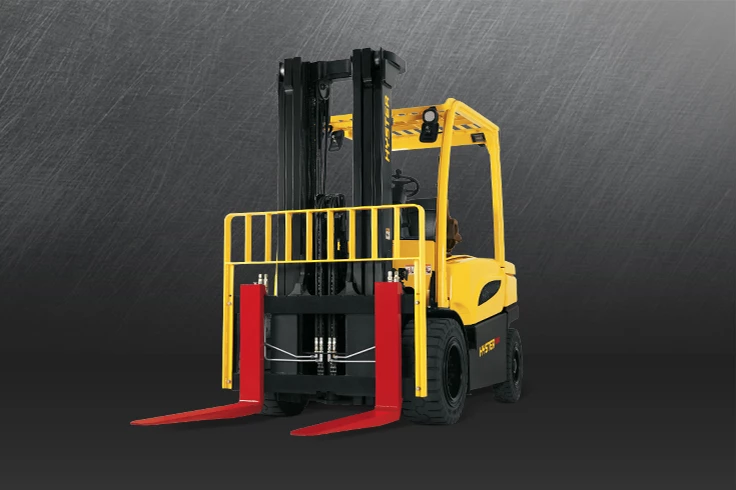 Low Maintenance Pneumatic Tire Forklift
HIGH PERFORMANCE 4 WHEEL ELECTRIC FORKLIFT
Models

J80-120XN

Capacity

8000-12000lbs
Continuing to bridge the gap between outdoor internal combustion engine (ICE) applications and indoor electric applications, the J80-120XN provides an environmentally friendly option for industries that have historically been ICE applications.
Simplified service
Ergonomics
Performance
Environmental application options
A BATTERY POWERED FORKLIFT WITH ICE-LIKE PERFORMANCE
SIMPLIFIED SERVICE
By using AC motors and transistor controller technology for 100% of its traction and hydraulic systems, the J80-120XN series reduces maintenance requirements. Plus, its standard automatic park brake eliminates the maintenance and adjustments required of a manual park brake system, which means a lower cost of operations.
CANbus communications simplifies wiring. The two-piece floor plate and side plates can be easily removed for access to components. Lift-out floor plates require no tools for quick and easy daily operator checks. Removable side plates provide additional access to all major truck components.
Ergonomics
Operators thrive with the automotive feel of the truck, along with easy on/off access and one of the most customizable, intuitive compartment designs on the market.
Forward placement and angle of pedals provide more operator foot room.
An adjustable armrest, mounted on the operator seat, positions the mini-levers in the most comfortable and efficient position. The armrest is cushioned and contoured to provide full forearm support.
The hydraulic functions, seatside directional control switch, horn and power disconnect button are all incorporated in the armrest to maximize operator comfort and ease of use.
The operator convenience station provides an industry-leading dash storage area with dedicated storage areas for markers, cell phone, PDA or 2-way radios, gloves, clipboards, pick tickets, beverages, flashlight, box-cutter— a place for almost anything an operator needs.
Performance
The J80-120XN series is built for powerful performance, industry-leading maneuverability and maximum uptime. It has the attitude of an IC truck, but the efficiency of an electric truck.
Adjustment of customizable performance parameters to match your application needs provides the optimum balance between performance needs and battery shift life.
AC technology delivers quick and smooth changes in travel direction, offering precise speed control with excellent acceleration.
Hyster-designed thermal management system maximizes performance during continuous operation, while preventing damage to components due to heat.
ENVIRONMENTAL APPLICATION OPTIONS
No two working environments are exactly alike. That's why Hyster Company gives you the option of tailoring your lift truck's performance and features to your application. Customize speed settings and directional control methods. Take advantage of Extended Shift functionality to maximize productivity. No matter what truck configuration you choose, your Hyster® lift truck will work as long and as hard as you do.
In response to customer requests for an electric truck that can be operated outside and in adverse environments, Hyster offers the following options:
Outdoor protection/wash-down package
Front mud guards
Tilt cylinder boots
These optional enhancements make the J80-120XN trucks suitable for outdoor use in applications where only internal combustion engine trucks have been successful in the past.
| Model | Load Capacity | Load Center | Lift Height | Turning Radius | Battery Capacity Voltage |
| --- | --- | --- | --- | --- | --- |
| J80XN | 8000lbs | 24in | 236 | 94.9 | 80V / 700-840Ah |
| J90XN | 9000lbs | 24in | 236 | 94.9 | 80V / 700-840Ah |
| J100XN | 10000lbs | 24in | 208 | 94.9 | 80V / 840Ah |
| J100XNL | 10000lbs | 24in | 208 | 101.3 | 80V / 840Ah |
| J110XN | 11000lbs | 24in | 208 | 101.3 | 80V / 840Ah |
| J120XN | 12000lbs | 24in | 208 | 101.3 | 80V / 840Ah |
Support throughout the lift truck life cycle
Knowledgeable, reliable dealers make all the difference
When it comes to collaborating with a lift truck dealer, you can't settle – you need dealers wholly focused on your success. When you purchase equipment or technology solutions from Yale Lift Truck Technologies, you gain access to our independent dealer network. "Independent" means our dealers are not constrained by factory ownership or corporate red tape.
Our dealers are entirely focused on fulfilling your needs
A seamless experience, from order to factory to ongoing support
Effective recommendations and responsive support, from parts, maintenance and
emergency services to fleet management, rental trucks and operator training.
Expertise and guidance on special features and allied products and services for your
warehouse, like racking, guarding and safety equipment.
Assistance with financing options.

The GSA creates a centralized location for the federal government, offering products, services, and facilities needed for federal agencies to serve the public. As a GSA certified company, Hyster supports the GSA's mission to provide innovative solutions for federal agencies with cost-effective and high-quality products. You can also find more information on the General Services Administration at www.gsaadvantage.gov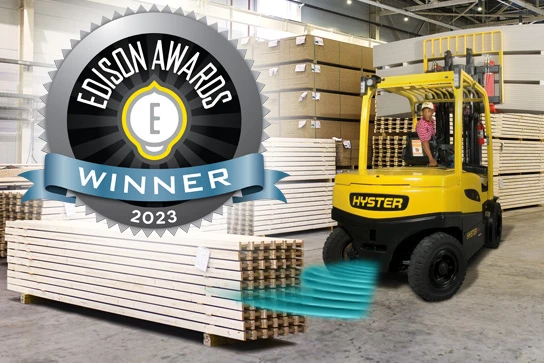 Hyster Reaction
Forklift technology: Operator Assist System
Hyster Reaction received the prestigious Edison Award for new product design and innovation. The first-of-its-kind technology controls lift truck performance based on real-time equipment status, location and operating conditions.
Discover Hyster Reaction™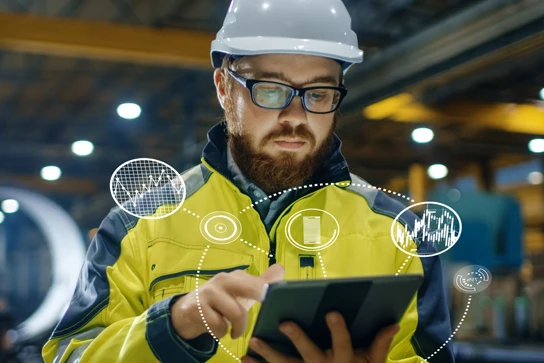 WIRELESS ASSET MANAGEMENT
HYSTER TRACKER
Hyster Tracker provides true wireless fleet management, can drive fleet efficiency, improves operator performance, reduces your carbon footprint and lowers your overall material handling costs.
Explore Hyster Tracker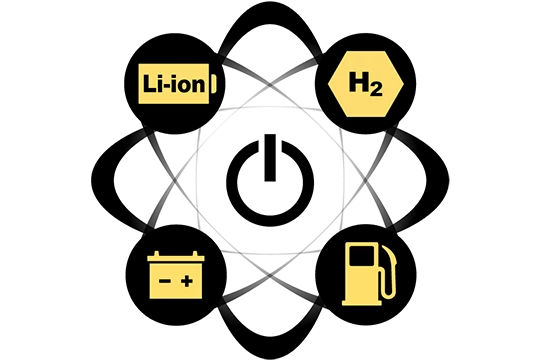 POWER YOUR POSSIBILITIES
HYSTER POWER MATCH
Not all power is the same. Learn how a better-matched power source could make a difference in your operations.
Pinpoint your power
The forklift is only part of the solution
Hyster knows that a tough lift truck is even better when it comes with a strong partner to meet your unique needs.