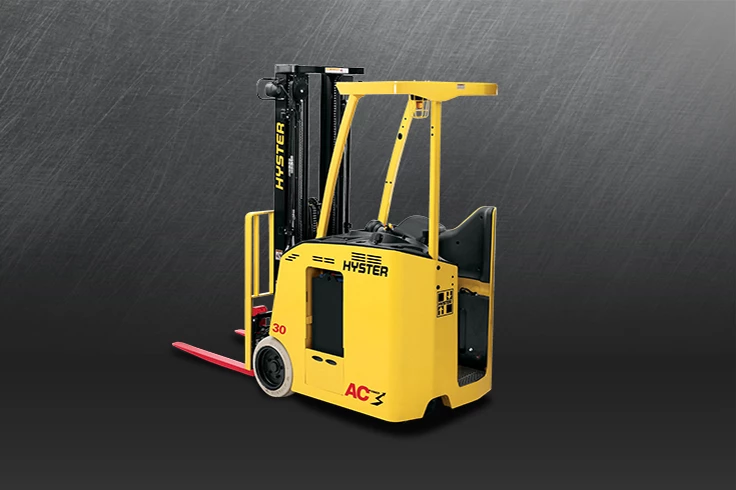 3 Wheel Stand-up Electric Forklift Truck
MORE ACTION, LESS RE-ACTION
Models

E30-40HSD3

Capacity

3000-4000lbs
Work can be hard. And gritty. But maneuvering and maintaining your materials handling equipment shouldn't be. You need a lift truck that consistently and efficiently maneuvers in and around tight spaces and, at the end of the shift, one that is easily cleaned and maintained.
Decreased downtime
Built for comfort
Enhanced productivity
Tough as the warehouse it works in
Decreased downtime
When a job gets dirty, so does your truck. But that's no challenge for this forklift. With sealed electrical connectors as well as enclosed master drive units and motors, you know that harmful dirt and grime will stay out of the components and washing down this truck will be worryfree. The AC traction and hoist motors eliminate the need for commutating brushes, and can reduce maintenance requirements.
BRUSHLESS AC TECHNOLOGY
Eliminates motor brushes
Requires no periodic maintenance
Eliminates scheduled downtime and the cost for parts and service
Eliminates the service requirements created by brush wear dust
Does away with the commutator and its related parts and service costs
Built for comfort
The E30-40HSD3 three-wheel stand forklift is an operator's dream. Easy on/off access, low step height and a spacious suspended floor help to alleviate fatigue and can increase productivity. Your operators will be in control with fully proportional travel, lift/lower, tilt, and sideshift functions.
Suspended Hyster Intelligent Ride Floor System reduces up to 65% of the shocks and vibrations transmitted to the operator's feet, back and legs from dock plates, expansion joints, and other irregular floor surfaces. The maintenance-free design requires no weight adjustment from the operator.
More usable floor area than leading competitors and no pedals to stand on to enable travel allow operators to adjust posture freely.
Enhanced productivity
The Hyster E30-40HSD3 three-wheel configuration provides a small turning radius — turning in smaller aisles and dock operations than a sit-down unit. Your operators can save valuable time and be more productive when using one truck that can handle the big and small spaces.
VISTA™PLUS mast offers up to 40% more visibility than leading competitors. Furthermore, we design our overhead guards to be even tougher than ANSI standards require, proving Hyster Company to be proactive regarding operator safety.
Hyster patented Operator Sensing System trains operators to maintain proper position within the compartment during travel, giving them one less thing to worry about. In addition, the maintenance-free sensor system doesn't require cleaning or adjustment.
| Model | Load Capacity | Load Center | Lift Height | Turning Radius | Battery Capacity Voltage | Weight |
| --- | --- | --- | --- | --- | --- | --- |
| E35HSD3 | 3500lbs | 24in | 283 | 54.9 | 36V / 775-1240Ah | 6445 |
| E40HSD3 | 4000lbs | 24in | 283 | 57.4 | 36V / 775-1240Ah | 6801 |
| E30HSD3 | 3000lbs | 24in | 259 | 50.7 | 36V / 775-1240Ah | 6353 |
Our dealers are our most important partners in helping you
We would not be where we are today without one of the most professional dealer networks in the industry. We work hard to design and manufacture the best lift trucks, but it is our stellar dealers that bring it all together for you.
Dealers help at every step of the process
Understanding your specific lift truck applications
Recommending special features to improve your productivity
Configuring the proper quotation
Helping with financing options when required
Prepping your truck for delivery after it leaves our factory
Arranging for operator training
Providing planned maintenance on your trucks
Supporting National Accounts management
Providing fleet management services, if needed
Providing emergency service and parts
Providing rental trucks at short notice
Helping determine exactly when to purchase new lift trucks

The GSA creates a centralized location for the federal government, offering products, services, and facilities needed for federal agencies to serve the public. As a GSA certified company, Hyster supports the GSA's mission to provide innovative solutions for federal agencies with cost-effective and high-quality products. You can also find more information on the General Services Administration at www.gsaadvantage.gov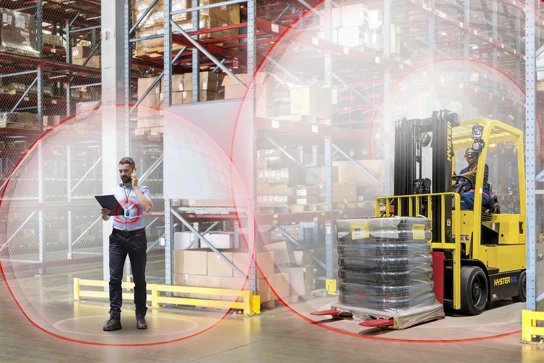 Hyster Reaction
FORKLIFT Operator Assist Technology
First-of-its-kind technology controls lift truck performance based on real-time equipment status, location and operating conditions.
Discover Hyster Reaction™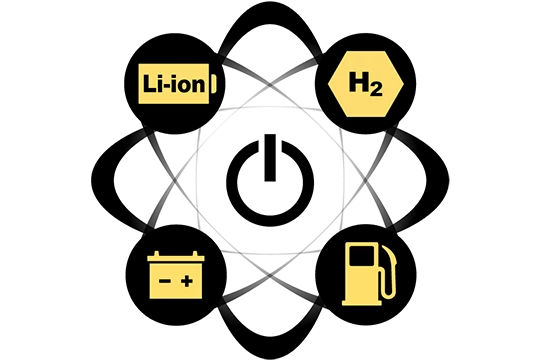 POWER YOUR POSSIBILITIES
HYSTER POWER MATCH
Not all power is the same. Learn how a better-matched power source could make a difference in your operations.
Pinpoint your power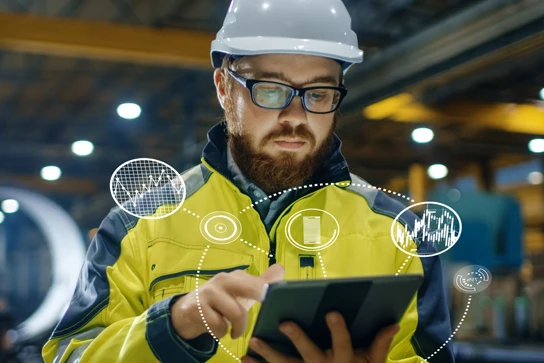 WIRELESS ASSET MANAGEMENT
HYSTER TRACKER
Hyster Tracker provides true wireless fleet management, can drive fleet efficiency, improves operator performance, reduces your carbon footprint and lowers your overall material handling costs.
Explore Hyster Tracker
The forklift is only part of the solution
Hyster knows that a tough lift truck is even better when it comes with a strong partner to meet your unique needs.