Case Study
M CON Products
Concrete Manufacturing
OTTAWA, ONTARIO CANADA
Background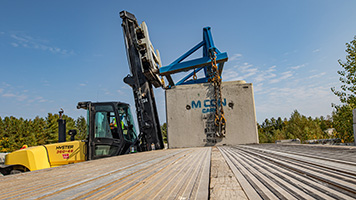 Precast concrete manufacturer relies on heavy duty big trucks to support rapid growth

M CON Products produces everything from maintenance holes and catch basins, to pipes, box culverts and other critical concrete products to support residential and commercial development projects in Ottawa and Eastern Ontario.
Support overall business growth, including increased production of heavier precast concrete pieces.
M CON began utilizing Hyster forklifts capable of handling a complete range of concrete products and capacities, with proper-spec attachment to avoid product damage.
Hyster Big Trucks handle the tasks without being taxed to limit, reducing maintenance spend and helping keep the fleet efficiently structured.
My goal is to minimize the time our operators spend out of their lifts
"This truck is able to handle the full range of material handling tasks at our facility, meaning we avoid time lost because they do not need to hop between different lift trucks for different tasks."

Tim Underhill - Plant Manager, M CON Products