Case Study
Results: Switching to lithium-ion powered forklifts helped cut costs and emissions
Paper & packaging
Paper and packaging operations
Background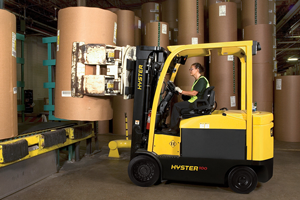 Two large paper and packaging solution providers needed to cut material handling costs, reduce emissions, improve their work environments and boost labor utilization. While they faced similar challenges, one operation used trucks powered by internal combustion engines (ICE) and the other used lead acid batteries.

The operations wanted to cut costs, boost labor utilization, reduce emissions and improve their work environments. They sought alternatives to the fumes and emissions of ICE and the long battery charging times and complex requirements of lead acid batteries.

Transition forklift fleet to new units powered by lithium-ion batteries. One operation switched from ICE equipment to 130 lithium-ion trucks, while the other transitioned from lead acid to 684 lithium-ion trucks. Both fleets use Hyster Tracker telematics and have units with the Hyster Reaction operator assist solution.
Both operations saw productivity gains and eliminated emissions or charging fumes by making the switch. The operation switching from ICE saved $1.5 million just from transitioning their fleet in one facility, while the lead acid operation was able to make a cost-effective transition by extending battery financing.
Adopting advanced electric forklifts
Effective power source implementation requires strong collaboration with a number of parties – lift truck manufacturers, battery manufacturers, lift truck dealers and more. Hyster lift trucks are compatible with one of the widest ranges of battery types and suppliers in the industry, enabling an unrestricted choice, based purely on operational requirements. The Hyster dealer network can not only help operations connect with the right battery provider for their needs, but also support the implementation process.