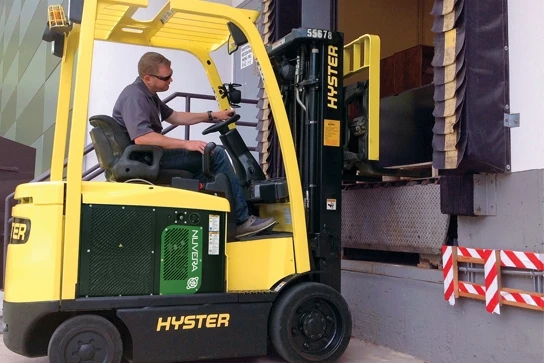 IMPROVE PRODUCTIVITY – Hydrogen fuel cells provide consistent power throughout a shift and can be refueled in three minutes, offering more uptime than other electric power sources.
FREE UP SPACE – A hydrogen fueling system takes up a small facility footprint, providing valuable workspace for your operation. In some cases, a fueling system can be moved outdoors.
GO CLEAN AND GREEN – Hydrogen fuel cells have no harmful emissions and use natural, recyclable resources, helping you truly comply with emissions regulations and sustainability initiatives.
ENJOY FLEXIBILITY – Hydrogen fuel cells are less dependent on operator charging behavior and your electrical grid than other electric power sources. Plus, you can place the hydrogen dispensers in a variety of locations.
FUEL YOUR WAY – Gas can be delivered if you have little to no infrastructure. For operations with moderate infrastructures, the delivery of liquid hydrogen could be a better fit and offers a lower unit fuel price. Operations with the size and infrastructure to support the on-site generation of fuel can take advantage of the very lowest unit fuel prices.