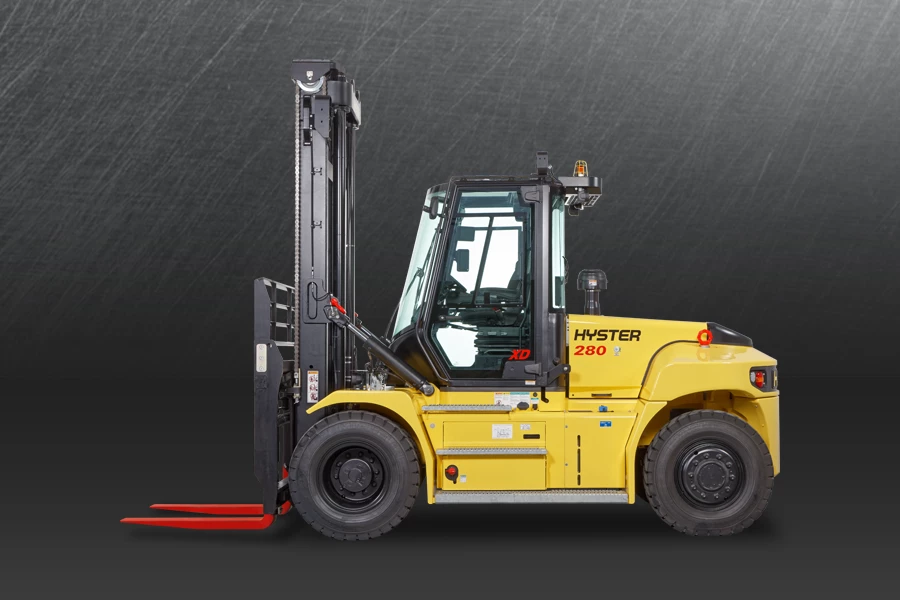 Heavy Duty Forklift Truck Pneumatic Tire
Big Trucks for Heavy-Duty Applications
Models

H190-280XD(S)

Capacity

19000-28000lbs
Heavy-duty forklift developed, tested and refined to perform in the harshest applications.
Robust front-end design
Operator comfort
Easily serviceable
Low cost of ownership
Excellent visibility
Make light work of the heaviest loads
Robust front-end design
The 2-stage mast and carriage are designed for a variety of heavy duty applications. Robust mast design for the 19,000 through 36,000 lbs. range incorporates decreased mast deflection and increased stiffness than comparable competitors' masts with overhead tilt.
The carriages are designed with a wide opening to increase forward visibility of the fork tips at ground level and most frequent loading heights. The top bar and side plates are manufactured from high strength steel. Greaseable load roller bearings help to remove wear particles from the roller body.
Operator comfort
The ergonomically designed high visibility cab puts greater productivity within easy reach. Equipped with an armored glass top window, curved front and rear windows and steel doors with tempered glass, the operator cab provides excellent all-around visibility. Inside the cab there is more space with the largest entry area in the industry, more control with a full-color screen displaying performance data at the operator's fingertips and more comfort with an exclusive lateral sliding seat, adjustable steering column and foot pedal, plus ergonomic controls.
Easily serviceable
Hyster forklifts are designed with the service technician in mind. Gull-wing hoods provide quick access to key components, and daily checks don't require tilting the cab. A tilting cab provides easy access to hydraulic components in seconds. Galvanized, broad, slip-resistant running boards foster quick daily checks, while a large access bay enables easy radiator cleaning.
Low cost of ownership
Fuel consumption is a key driver of the total cost of ownership for heavy duty lift trucks. Hyster high capacity lift trucks are engineered with integrated powertrain system and on-demand hydraulics to deliver low fuel consumption with high levels of productivity.
The engine design produces more power and torque using XPI high-pressure, common-rail fuel injection and variable geometry turbochargers. Advanced controls enable the engine to provide peak performance and operating efficiency while delivering great fuel economy and durability.
Excellent visibility
Open carriage design, mast chains mounted on the outside of the mast low cowl and increased space between mast channels and valve block location enable enhanced forward view of fork tips at travel and load height.
Curved, scratch resistant, tempered glass front and rear windshields, armored glass top window and steel-framed glass doors provide operators with excellent all-around visibility. On the exterior, sloping counterweights enhance visibility of steer tires for improved maneuverability and reduced tire gouging.
| Model | Load Capacity | Load Center | Lift Height | Turning Radius | Overall Width | Weight | Engine Type | Transmission |
| --- | --- | --- | --- | --- | --- | --- | --- | --- |
| H190XD | 19000lbs | 24in | 216 | 151.6 | 98 | 28403 | Cummins QSB 4.5L Diesel | ZF WG161 |
| H190XD | 19000lbs | 24in | 216 | 151.6 | 98 | 28403 | Cummins QSB 4.5L Diesel | ZF WG161 |
| H210XD | 21000lbs | 24in | 216 | 151.6 | 98 | 29548 | Cummins QSB 4.5L Diesel | ZF WG161 |
| H230XD | 23000lbs | 24in | 275 | 161.7 | 98 | 30765 | Cummins QSB 4.5L Diesel | ZF WG161 |
| H230XDS | 23000lbs | 24in | 275 | 151.6 | 98 | 31676 | Cummins QSB 4.5L Diesel | ZF WG161 |
| H250XD | 25000lbs | 24in | 275 | 161.7 | 98 | 31916 | Cummins QSB 4.5L Diesel | ZF WG161 |
| H280XD | 28000lbs | 24in | 275 | 161.7 | 98 | 33878 | Cummins QSB 4.5L Diesel | ZF WG161 |
Support throughout the lift truck life cycle
Knowledgeable, reliable dealers make all the difference
When it comes to collaborating with a lift truck dealer, you can't settle – you need dealers wholly focused on your success. When you purchase equipment or technology solutions from Yale Lift Truck Technologies, you gain access to our independent dealer network. "Independent" means our dealers are not constrained by factory ownership or corporate red tape.
Our dealers are entirely focused on fulfilling your needs
A seamless experience, from order to factory to ongoing support
Effective recommendations and responsive support, from parts, maintenance and
emergency services to fleet management, rental trucks and operator training.
Expertise and guidance on special features and allied products and services for your
warehouse, like racking, guarding and safety equipment.
Assistance with financing options.

The GSA creates a centralized location for the federal government, offering products, services, and facilities needed for federal agencies to serve the public. As a GSA certified company, Hyster supports the GSA's mission to provide innovative solutions for federal agencies with cost-effective and high-quality products. You can also find more information on the General Services Administration at www.gsaadvantage.gov
Introducing the XD series cab for Hyster High Capacity Trucks
Reimagined design for high capacity lift trucks that maximizes operator comfort and uptime.
Climb Inside
Hyster Tire Handler Trucks
HYSTER TIRE HANDLING SOLUTIONS FOR MINING, PORT AND INTERMODAL APPLICATIONS
Hyster® Tire Handler trucks are engineered to help provide fast and cost effective changing of heavy duty large truck tires. For mine operators, maximum uptime of the mining equipment is crucial. Hyster tire handlers are designed for excellent all-around visibility, controllability and maneuverability to facilitate efficient tire removal and replacement services the first time around, keeping the haul truck running.
Featuring a true "plug-and-play" system, Hyster tire handlers are easily installed and assembled on-site. In addition, mines can choose from either a dedicated Hyster Tire Handler or a dual function truck that can quickly disconnect the handling attachment for use as a Hyster Forklift, reducing the number of service vehicles in the mining fleet which can lower operating cost.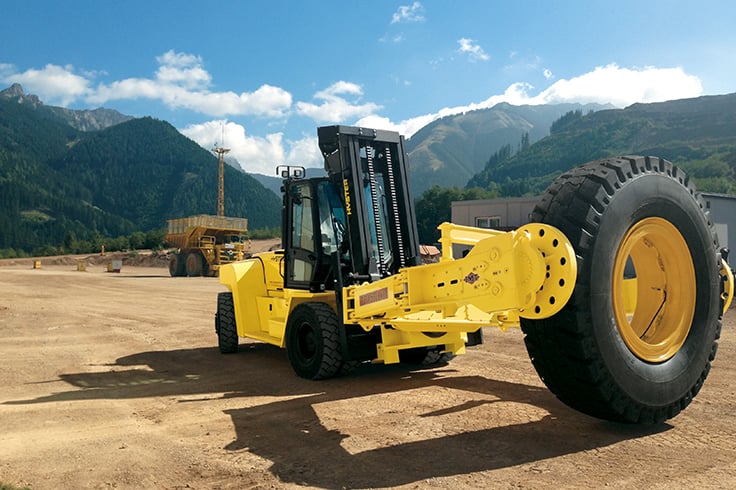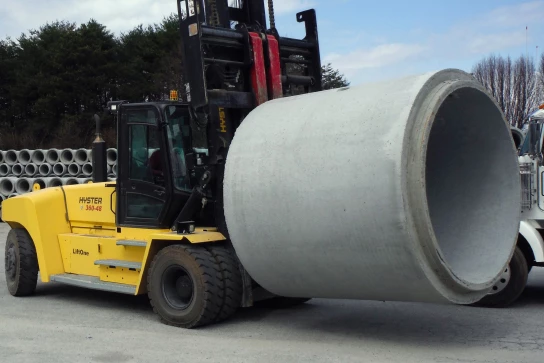 CASE STUDY
GOSSETT CONCRETE PIPE COMPANY
Gossett Concrete Pipe Co. looked to longtime supplier, Hyster Company, for new equipment that could handle its flourishing box culvert and large-diameter pipe business. Gossett's most recent purchase, the Hyster H360-48HD, features the load capacity, durability, visibility and ergonomic features required for its heavy duty applications.
Learn more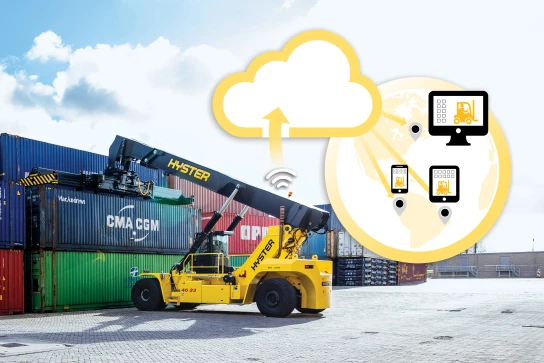 MANAGE YOUR BIG ASSETS
LEVEL 1 TELEMETRY STANDARD ON BIG TRUCKS
Help promote safety & operator confidence, regulatory compliance, and improve operational transparency. Our cloud-based wireless monitoring provides actionable insights giving you a thorough look into your fleet's day-to-day operations so your team can work smarter. And it's standard on Hyster high capacity ICE forklifts and container handlers and reach stackers.
Explore Hyster Tracker
MANUFACTURING EXCELLENCE
Built by highly skilled craftsmen and lean manufacturing processes in our factory in Nijmegen, the Netherlands.
The forklift is only part of the solution
Hyster knows that a tough lift truck is even better when it comes with a strong partner to meet your unique needs.