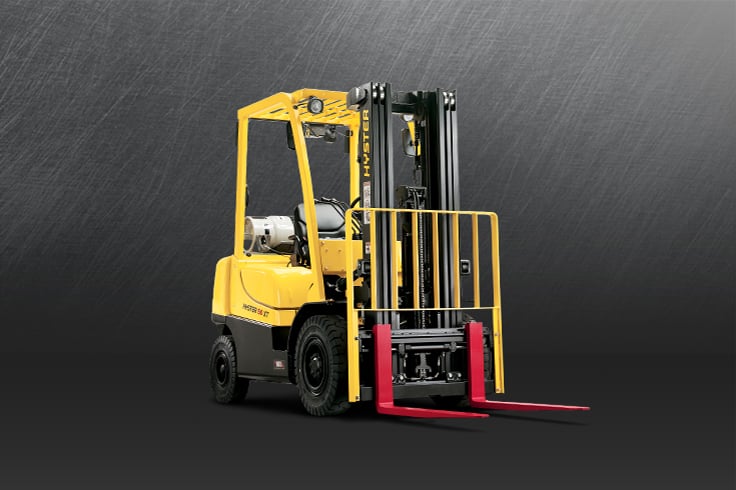 Internal Combustion Forklift Pneumatic Tire
Customization that costs you less
Models

H40-60XT

Capacity

4000-6000lbs
The H40-60XT series is engineered to give you an ideal combination of power, speed and fuel efficiency. This truck will fit into almost any application or industry where you need a hard-working forklift.
Durable components
Easy service
Customization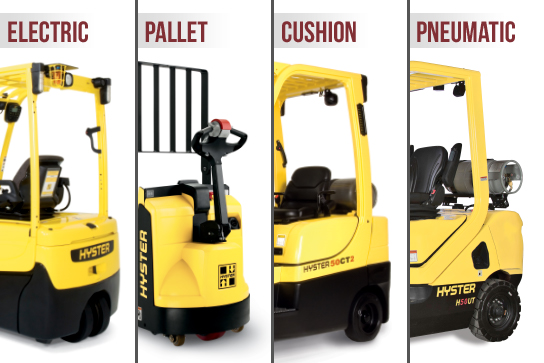 NEED THIS TRUCK NOW?
IN STOCK AND READY TO ROCK
This model and others are available for immediate purchase at select Hyster dealer locations. We stocked our dealers with our most popular lift truck models so you can add to your fleet without delay.
EXPLORE AVAILABLE MODELS
Power. Speed. Efficiency.
Durable components
By investing upfront in resources that feature longer service intervals, you have the ability to decrease your cost of operations, as well as increase uptime and efficiency.
Industrial grade mast components, such as cast cross members and thicker channels, decrease deflection and increase strength.
The steer axle assembly is made of cast ductile iron. Some competitors use welded plate structures that can suffer from cracks or deformation from shock loading, or steel plate structures that can bend.
The Hyster Stability System (HSS®) requires less maintenance than the competition's system due to fewer grease points and longer service intervals than the competition.
Easy service
You won't realize the full benefits of the Hyster® XT lift truck until after your first service event experience. That's when its "cowl-to-counterweight" access and one-piece floorplate reveal other engineering advantages designed to keep your truck, and your operation, running smoothly.
Configured so you don't have to remove the LP tank to open the hood, the Hyster XT series is clearly easier for you to service.
Integrated dash display shows error codes and warning indicators, reducing downtime to perform truck diagnosis.
Customization
Business is all about maintaining momentum in the face of change. With Hyster® Variable Power Technology™, you can customize your performance and fuel efficiency based on your needs. You'll be able to run in fuel-efficient mode when production is less demanding, yet switch to a higher performance mode when deadlines are looming.
| Model | Load Capacity | Load Centre | Lift Height | Turning Radius | Overall Width | Weight | Engine Type | Transmission |
| --- | --- | --- | --- | --- | --- | --- | --- | --- |
| H40XT | 4000lbs | 24 | 218 | 85.7 | 52 | 8170 | PSI 2.4L LPG/Dual Fuel | Powershift 1-speed |
| H50XT | 5000lbs | 24 | 218 | 88 | 52 | 8910 | PSI 2.4L LPG/Dual Fuel | Powershift 1-speed |
| H60XT | 6000lbs | 24 | 228 | 91.5 | 52.2 | 10300 | PSI 2.4L LPG/Dual Fuel | Powershift 1-speed |
Our dealers are our most important partners in helping you
We would not be where we are today without one of the most professional dealer networks in the industry. We work hard to design and manufacture the best lift trucks, but it is our stellar dealers that bring it all together for you.
Dealers help at every step of the process
Understanding your specific lift truck applications
Recommending special features to improve your productivity
Configuring the proper quotation
Helping with financing options when required
Prepping your truck for delivery after it leaves our factory
Arranging for operator training
Providing planned maintenance on your trucks
Supporting National Accounts management
Providing fleet management services, if needed
Providing emergency service and parts
Providing rental trucks at short notice
Helping determine exactly when to purchase new lift trucks

The GSA creates a centralized location for the federal government, offering products, services, and facilities needed for federal agencies to serve the public. As a GSA certified company, Hyster supports the GSA's mission to provide innovative solutions for federal agencies with cost-effective and high-quality products. You can also find more information on the General Services Administration at www.gsaadvantage.gov
FACTORY-FIT ROTATOR ATTACHMENT
Tested and certified prior to leaving the Hyster manufacturing facility
20.4% more powerful than Toyota
When put to the test, the Hyster H50XT has more torque and horsepower to move your materials than the Toyota 8FGU25.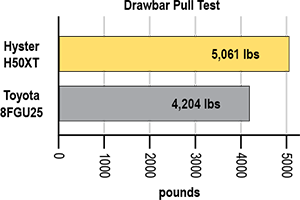 2.9% more loads moved than Toyota
The Hyster H50XT moves up to 2.5 loads per hour more than the Toyota 8FGU25. In an operation with a fleet of 15 lift trucks running 8 hour shifts, you can move up to 37.5 more loads per hour and up to 300 more loads per shift with the Hyster H50XT.

The information above is the result of a lift truck comparison test conducted by USAC Properties, Inc. (a subsidiary of the United States Auto Club, Inc.), an independent third party. The test was conducted at the Counterbalance Development Center located in Fairview, OR, March 2017, Performance Certification Number: 17-CPC-260
WIRELESS ASSET MANAGEMENT
HYSTER TRACKER
Hyster Tracker provides true wireless fleet management, can drive fleet efficiency, improves operator performance, reduces your carbon footprint and lowers your overall material handling costs.
Explore Hyster Tracker
Watch Hyster Tracker Video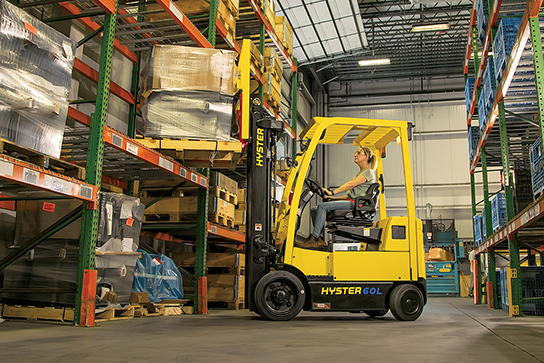 ELECTRIC LIFT TRUCKS
CLEAN POWER THAT MEANS BUSINESS
Are you ready to transition from ICE to electric? Hyster® electric lift trucks power your possibilities by reducing emissions, fuel consumption and maintenance costs while boosting performance and efficiency.
Learn More